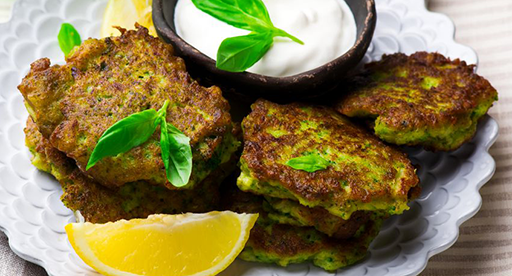 To celebrate Love Food Hate Waste's Compleating campaign, try this delicious recipe for broccoli stalk fritters.
'Compleating' is eating to reduce food waste and to get the maximum goodness out of your veges. Whip up a batch of these broccoli stalk fritters paired with lemon yoghurt sauce to feed the whole family.
Ingredients:
1/2 head of broccoli - stalk and florets
2 eggs
1/4 cup flour
Zest of 1 lemon
1/4 cup grated cheese
1/4 cup plain yoghurt
1 tablespoon of lemon juice
Salt and pepper to taste
Olive oil (to cook)
Method
Chop broccoli into small chunks. Use all the the broccoli, both florets and stalk.
Blitz the broccoli in a food processor or blender until it's a fine consistency.
In a bowl mix the broccoli in with the eggs, flour, lemon zest, cheese and salt and pepper.
Heat olive oil in a small frying pan on medium - high heat.
Mold spoonfuls of mixture into fritters and fry until golden on either side.
Mix the yoghurt and lemon juice together and serve as a dipping sauce with the fritters.
Tips:
If you don't have a food processor you can use grated broccoli stalks or finely chopped cooked broccoli.
This recipe is easy to double if you have many people to feed.
Follow our step by step Broccoli Growing Guide >