Summer in the garden - January
The middle of summer has arrived and January is a main harvesting month with lots of delicious summer crops ready to harvest in both the vege patch and the fruit garden.
It's also the perfect time to plant more of your fruit and vege favourites to ensure a continued supply of homegrown delights. Follow our guide below on what to harvest now and what to plant next.
If you are planning on going away on holiday, organise someone to water your plants while you are away so they don't dry out.

With a bit of planning there will always be a beautiful bloom to pick and brighten up, so don't miss out top flower picks to plant now.
Harvest time is from seedling planting to harvest. For seeds, depending on variety, it will take an extra 6-8 weeks from germination to planting.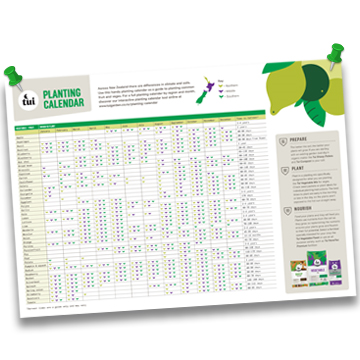 Download our planting poster
Our handy calendar shows you when to plant in your region, including harvest dates.
When should I plant
in
Jan
Feb
Mar
Apr
May
Jun
Jul
Aug
Sep
Oct
Nov
Dec
Harvest in

60-85

days
Plant
Basil, beetroot, beans, capsicum, chilli, coriander, courgette, cucumber, eggplant, lettuce, mesclun, parsley, pumpkin and squash, radish, rocket, silverbeet, spinach, spring onions, sweetcorn, tomatoes.
Harvest
Basil, beetroot, beans, broccoli, cabbage, capsicum, carrot, cauliflower, celery, chilli, coriander, courgette, cucumber, eggplant, lettuce, mesclun, parsley, potatoes, pumpkin and squash, radish, rocket, silverbeet, spinach, spring onion, sweetcorn, tomatoes, apricots.
Maintenance
Dig in Tui Compost and Tui Sheep Pellets before planting to replenish nutrients used by previous crops. Compost is also an excellent water saver.
Mulch long-serving summer vegetables with Tui Pea Straw Mulch.
Tomatoes: plants will be growing vigorously now and more fruit sets will be appearing. Fruit will be ripening from now until late autumn. For the best flavour, leave the fruit to ripen on the plant. Birds enjoy tomatoes too - bird netting may be required to protect the ripening tomatoes. Continue staking tomatoes, keep pinching out new laterals that appear and keep plants well watered.
Potatoes: for main crops still in the ground, mould up soil around the leaves to encourage more tubers and to keep the sun off them. A side-dressing of Tui Potato Food will give them a boost.
If aphids and whitefly are still a problem, try blasting with a hose or spray with an insect control product from your garden centre.
Adding Debco SaturAid to your vegetable garden will reduce water use by up to 50 per cent. SaturAid draws water into the soil and directly to the root zone, reducing run-off and waste.
Plant
Blueberry, strawberry, passionfruit
Harvest
Nectarines, passionfruit, cherries, blueberries, strawberries, raspberries, apricots, peaches, plums.
Maintenance
In dry periods keep berries, lemons, citrus, grapes and kiwifruit watered. Summer is the time when the fruit is forming. Keep the soil moist and water all fruit trees through dry periods.
Add Debco SaturAid to help soils hold onto water.
Remove excess apples from apple trees (this is called thinning) in some cases apples produce too much fruit and if left on the tree will limit the size and quality of ripening fruit.
Thin multiple clusters down to two or three apples per group.
Trim any long runners back to the centre of the strawberry plants, this will force the plant to produce more flowers which equals another batch of fruit.
Aphids, whitefly and scale insects may be about, blast off with a hose or select a suitable spray from your garden centre.
Birds can be a real problem eating fruits as they ripen, cover with netting where possible.
Taller growing berries such as boysenberries, blackberries and other scrambling berries will require staking or wires to grow along to keep fruit up off the ground.
Add a layer of Tui Mulch & Feed around the base of fruit trees, this will enable to soil to maintain moisture throughout the summer and keep the area weed free.

Plant
Japanese anemones, petunia, impatiens, calendula, dahlia, echinacea, verbascum, verbena, alyssum, cosmos, gaillardia, arctotis, marigolds, nemesia, sunflowers, chrysanthemum, pansy, viola, daisy, delphinium, dianthus, fuchsia, gerbera, lavender.
pick
Roses, strawflowers, aquilegias, hydrangeas, fuchsias, thalictrum, cornflower, carnations, dianthus, delphiniums, lilies, gladiolus, sweet peas, gypsophila, alstromeria, sunflowers, geraniums, cosmos.
Maintenance
Apply a side dressing of Tui NovaTec Premium fertiliser to flower beds and pots and containers to replenish nutrients.
Fertilise roses with Tui Rose Food.
Lay Tui Quash every few weeks to keep slugs and snails at bay over the summer months.
Deadhead or cut back summer flowers to encourage a fresh batch of flowers.
Water is the lifeline of the summer garden. When planting, add Debco SaturAid to dry and porous sandy soils and to pots and baskets, it will help distribute water to the root zone and also help the soil hold on to moisture. Water flowers in the garden when the sun is low, either morning or evening. Do not water them in the heat of the day.
Add thick layers of Tui Mulch & Feed or Tui Pea Straw Mulch to garden beds and pots to help conserve water, reduce weeds and add valuable nutrients back to the soil.
Stake taller dahlias and gladiolus to prevent stems of flowers from falling over.
Sweet peas – keep providing support for the vines to climb up, more vines mean more flowers.