Spring in the garden - November
As we head into summer the weather is heating up and there are more daylight hours to spend in the garden! Plant summer-loving crops for a continuous supply of delicious homegrown veges, pick and plant more berries, and keep planting vibrant flowers for a beautifully bright garden.
As the weather warms in your region plant summer-loving crops including tomatoes, chillies, courgettes, capsicums and sweetcorn. 
In the warmest areas of the country the first berry crops are ready to be harvested and it's a great time to plant more for continued harvests over the summer season. Don't forget to feed your fruit trees too!
There's plenty of bright flowers to plant and pick this month. Feed with Tui NovaTec Premium fertiliser to keep them blooming for stunning summer show.
Harvest time is from seedling planting to harvest. For seeds, depending on variety, it will take an extra 6-8 weeks from germination to planting.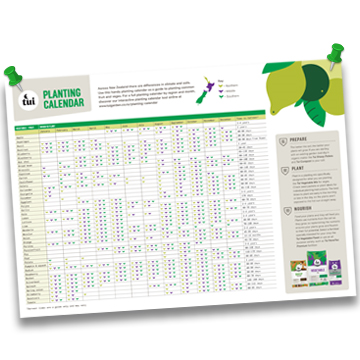 Download our planting poster
Our handy calendar shows you when to plant in your region, including harvest dates.
When should I plant
in
Jan
Feb
Mar
Apr
May
Jun
Jul
Aug
Sep
Oct
Nov
Dec
Harvest in

60-85

days
Plant
Asparagus, basil, beetroot, beans, cabbage, capsicum, carrot, chilli, coriander, courgette, cucumber, eggplant, kumara, lettuce, mesclun, parsley, potatoes, pumpkin and squash, radish, rocket, silverbeet, spinach, spring onions, sweetcorn, tomatoes.
Harvest
Asparagus, basil, beetroot, bok choi, beans, broccoli, cabbage, carrot, cauliflower, celery, coriander, courgette, cucumber, kale, lettuce, mesclun, parsley, parsnip, peas, potatoes, radish, rocket, silverbeet, spinach, spring onion, sweetcorn, tomatoes.
Maintenance
Add Debco SaturAid to dry soils help them hold onto more moisture.
Lay Tui Quash slug & snail control to control slugs and snails.
Mildew may appear on courgettes and cucumbers; spray with a suitable spray to control it.
For tomatoes planted in garden beds, feed with Tui Tomato Food to replace nutrients and promote big juicy fruit.
Keep mounding the soil around potato plants to encourage a bigger harvest and protect the crop from then sun.
Apply Tui Organic Seaweed Plant Tonic once a month to give plants a boost as the weather warms.
Regularly plant salad greens such as lettuce, mesclun, radish and spring onions for summer salads.
Keep your tomatoes well watered. Well watered, well nourished tomatoes will have a better chance of keeping insect pests and diseases at bay. To reduce the chance of blight, avoid watering plant foliage.
To protect your tomatoes from the elements add a layer of Tui Pea Straw Mulch, to help keep their roots moist in the warmer months, to keep fruit off the soil and to help keep your garden weed free.
Kumara: shoots and cuttings can be planted now in warm areas. Cut a shop-bought kumara in half and lay it in a shallow tray of water for a few weeks; bright green shoots and leaves will appear after a month or so, at which stage the cutting can be planted out. Alternatively, plants are available in garden centres in October-November. Kumara is best suited to areas with long hot summers.
Plant
Raspberry, strawberry, blueberry, blackberry, boysenberry, feijoa, lemon, orange, mandarin, lime, passionfruit, grapes, kiwifruit, tamarillo.
Harvest
Finish picking the last of the citrus crops - lemons, limes, mandarins, oranges.
Strawberries and other berries including blueberries, boysenberries, raspberries and blackberries.
Maintenance
Add a layer of Tui Mulch & Feed around the base of fruit trees, this will enable the soil to maintain moisture throughout the summer and keep the area weed free.
As you harvest your berry crops it's a great time to plant more for continued harvests over the summer season.
Fertilise strawberries, raspberries, blueberries, boysenberries, gooseberries, blackberries and currants planted in the garden with Tui Strawberry Food.
As the citrus harvest ends, prune your citrus trees to open up the framework of the plant to allow more light into the centre of the plant. Fertilise with Tui Citrus Food around the drip line after pruning.
Thin out fruit where it has set too thickly.
Plant passionfruit - as a climbing fruit, passionfruit needs something to climb up and support all its tendrils.
Keep orchards and the areas around fruit trees weed free.
Protect apples and pears from codling moth by hanging traps in the branches of the trees. The aim of these is to trap the moths and prevent the caterpillars from borrowing into the skin of the developing fruit.
Aphids, whitefly and scale insects may be about, blast off with a hose or select a suitable spray from your garden centre.
Plant
Alyssum, gazania, lobelia, fuchsia, foxgloves, ageratum, aster, chrysanthemum, poppy, carnation, cosmos, dahlia, dianthus, lisianthus, Everlasting daisy, gazania, geranium, gerbera, godetia, gypsophila, honesty, impatiens – in frost free areas, marigold, petunia, nasturtium, phlox, Queen Annes Lace, salvia, snapdragon, statice, sunflower, sweet pea, verbena and wallflower, day lily, dahlia, cistus, canna lily, calibrachoa, abutilon, ligularia, iris, hibiscus, daisy, lavender, anemones, Peruvian lily, Felicia, arctotis, penstemon, delphinium, campanula, scabious, nemesia, diascia, roses, verbena, rhododendrons, Daphne, camellias, azaleas, wisteria, clematis, bougainvillea, mandevilla.
pick
Roses, penstemon, iris, peony roses, geums, delphiniums, larkspur, Queen Annes Lace, stock, snapdragons, lavender, chrysanthemum, gerbera, sweet pea, poppies, anemones, freesias, daisy.
Maintenance
Apply Tui Bulb Food to Christmas lilies and gladiolus ensures good flower bud development for summer displays.
Apply Tui NovaTec Premium fertiliser to flower borders and pots and containers to give plants a much needed boost for the upcoming season.
Apply Tui Bulb Food to spring bulbs as they finish flowering to ensure best flowering for next year.
If aphids are a problem try blasting off with the hose, or warm soapy water. If the infestation is large, check at your local garden centre for a suitable spray.
Keep an eye out for slugs and snails looking for food. Lay Tui Quash every few weeks to keep them at bay.
Keep weeds under control by weeding, mulching or spraying.
In dry areas begin watering, the best time to water is in the morning or early evening. Water the soil not the plants.
Incorporate compost or Debco SaturAid to help the soil hold onto more moisture.
Tie up sweet peas and clematis as the tendrils start to run.