Autumn in the garden - April
Autumn is nature's planting time as the soils are warm and moist. Plants have the winter to settle their roots into the soil ready to flourish in spring, so there's plenty of options to plant in April.
Tomatoes, capsicums and chillies will be coming to an end in cooler parts of the country, where the nights are beginning to draw in and the earliest frosts may start to appear. In warm regions, these crops will last another couple of months.
As you harvest the last summer crops April is the perfect time to plant your patch with winter staples including broccoli, cabbage, celery and silverbeet. Freshen the flower garden with pansies and polyanthus and don't forget the Kiwi favourite of feijoas in the fruit garden!
While you're spending more time at home currently, we are sharing relevant content so you can make the most of your time in the garden. Join us on our Facebook and Instagram for guides, tips and projects to do now!
Harvest time indicated on the planting calendar download is from seedling planting to harvest. For seeds, depending on variety, it will take an extra 6-8 weeks from germination to planting.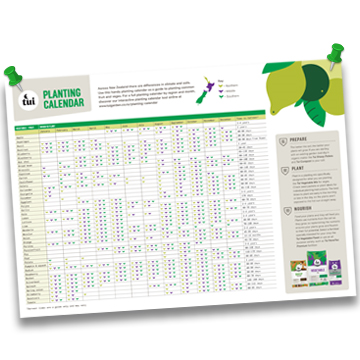 Download our planting poster
Our handy calendar showing you when to plant veges and flowers in your region, including harvest dates.
When should I plant
in
Jan
Feb
Mar
Apr
May
Jun
Jul
Aug
Sep
Oct
Nov
Dec
Harvest in

2-3

years
Plant
Beetroot, bok choi, broccoli, cabbage, carrot, cauliflower, celery, coriander, kale, leek, lettuce, mesclun, onion, parsnip, parsley, peas, radish, rhubarb, rocket, silverbeet, spinach.
Harvest
Basil, beetroot, bok choi, beans, broccoli, capsicum, chilli, coriander, courgette, cucumber, eggplant, kale, lettuce, mesclun, parsley, parsnip, potatoes, pumpkin and squash, radish, rhubarb, rocket, silverbeet, spinach, spring onion, sweetcorn, tomatoes.
Maintenance
Dig in Tui Compost and Tui Sheep Pellets before planting to replenish nutrients used by previous crops. Compost is also an excellent water saver.
Beans - tie up floppy plants, and keep them well watered - they should keep producing for another month or so.
Brussels sprouts - stake taller plants to prevent them from falling over.
Carrots - thin rows of carrots to ensure the roots develop evenly.
Sweetcorn - pull out plants once they have finished, and add the stems to the compost heap.
Tomatoes - these can be left on the plant to ripen if the plants are still looking healthy enough. Otherwise you can pull the plants out and leave any green fruits on a windowsill to ripen in the sun (this may take a few weeks).
Feed established plants once a month with Tui Organic Seaweed Plant Tonic.
Lay Tui Quash to control slugs and snails, and spray aphids and whitefly if they are still a problem.
Plant
Blueberry, feijoa, lemon, orange, mandarin, lime.
Harvest
Apples, Chilean guava, grapes, pears, passionfruit, late peaches.
Maintenance
Remove runners from strawberry plants and pot up into Tui Strawberry Mix ready for planting out in the winter.
Aphids, whitefly and scale insects may be about, blast off with a hose or select a suitable spray from your garden centre.
Once nectarines, peaches and plums have finished fruiting prune to shape and to remove any dead or diseased branches.
Keep orchards and the areas around fruit trees weed free. Only use weed sprays that are non-residual near fruit trees.
Add a layer of Tui Mulch & Feed around the base of fruit trees, to keep the soil warmer over the winter months and keep weeds down.
Plant
Bulbs: It's not too late to plant bulbs for spring flowering.
Bellis, lobelia, polyanthus, flowering kale, primula, violas, snapdragon, wildflowers, sweet William, cineraria, alyssum, calendula, daffidol, tulip, hyacinth, forget-me-not, pansy and viola, poppy, sweet pea, cyclamen, daisy, delphinium, dianthus
PICK
Scabious, Peruvian lily, poppies, marguerite daisy, statice, Japanese anemones, roses, coreopsis, echinacea, strawflowers, dahlias, lilies, sweet peas, gypsophila, cosmos, zinnia, pineapple lily, agapanthus, hydrangeas.
Maintenance
Apply Tui Bulb Food to bulbs already in the ground.
Apply a side dressing of Tui NovaTec Premium fertiliser to shrub borders and flower gardens.
Add thick layers of Tui Mulch & Feed or Tui Pea Straw Mulch to garden beds and pots to conserve water, reduce weeds and add valuable nutrients back to the soil. Mulching also keeps your garden looking tidy and cared for!
Aphids and whitefly are all still moving about now, particularly if the weather is still very warm.
Lay Tui Quash every few weeks to keep slugs and snails at bay.
Prune back summer flowering perennials and bulbs that have finished for the season, to tidy up garden borders and beds.
Lift and divide overgrown perennials.
Save and dry seeds of summer flowers for sowing in the spring.