Autumn in the garden - May
As May is the last month of autumn there is plenty to keep busy in the garden. There's plenty of fruit to harvest and new crops to plant in the vege patch! Don't forget get your bulbs in the ground too.
With winter is on its way, there are two main things to do in the vege garden now: clean up the last of the summer and autumn crops and plant some new winter veges including brassicas, leafy greens and herbs. 
In the fruit garden, the harvest period is coming to a close for pip and stonefruit and the long awaited harvest season is just beginning for feijoas.
It's the last chance to get your bulbs in the flower garden before winter to ensure a beautiful show next spring.
Harvest time is from seedling planting to harvest. For seeds, depending on variety, it will take an extra 6-8 weeks from germination to planting.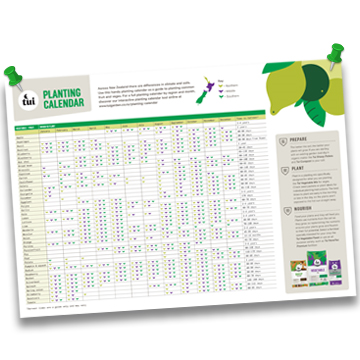 Download our planting poster
Our handy calendar shows you when to plant in your region, including harvest dates.
When should I plant
in
Jan
Feb
Mar
Apr
May
Jun
Jul
Aug
Sep
Oct
Nov
Dec
Harvest in

2-3

years
Plant
Beetroot, bok choi, broccoli, cabbage, carrot, cauliflower, celery, coriander, garlic, kale, lettuce, mesclun, onion, parsnip, parsley, peas, radish, rhubarb, rocket, silverbeet, spinach.
Harvest
Basil, beetroot, bok choi, broccoli, cabbage, capsicum, carrot, cauliflower, celery, chilli, coriander, courgette, cucumber, eggplant, kale, leek, lettuce, onion, parsley, parsnip, potatoes, radish, rhubarb, rocket, silverbeet, spinach, spring onion, tomatoes.
Maintenance
Dig in Tui Compost and Tui Sheep Pellets before planting to replenish nutrients used by previous crops.
Pumpkins - pick pumpkins in areas where you want to get rid of vines, as they can take up a lot of room. Cut the stalk from the vine, leaving the handle-type stem on the pumpkin. Store somewhere dry off the ground.
Herbs - protect tender herbs like basil from the cold to prolong the harvest - cover with frost cloth or something similar in the evenings.
Lay Tui Quash to control slugs and snails eating your seedlings.
Feed herbs and winter greens once a month with Tui Organic Seaweed Plant Tonic.
Plant
Apple, pear, strawberry, blueberry, feijoa, lemon, orange, mandarin, lime, apricots. 
Harvest
Feijoas, quince, apples, pears, passionfruit.
Maintenance
Collect and compost any rotting fruit from under fruit trees (unless it is diseased)
Remove runners from strawberries. Once removed, plant into a coir pellet or into some potting mix to grow the roots and then plant into your garden once roots are established.
Check harvested fruit to make sure nothing is rotting, remove fruit as soon as its starts to decay. The rot can quickly spread throughout a whole harvest within a week or two.
Keep orchards and the areas around fruit trees weed free. Only use weed sprays that are non-residual near fruit trees.
Add a layer of Tui Mulch & Feed around the base of fruit trees, to keep the soil warmer over the winter months and keep the weeds down.
Plant
It's the last opportunity to plant spring bulbs before the soils get too cold.
Alyssum, cyclamen, bellis, polyanthus, flowering kale, primula, pansy and viola, snapdragon, wildflowers, poppy, cineraria, winter roses – hellebores, leucadendron, sweet pea, calendula, daffodil, tulip, hyacinth, daisy, delphinium, dianthus.
PICK
Leucadendron, flowering kale, dianthus, roses, Peruvian lily, poppies, Marguerite daisy, statice, Japanese anemones, Erica.
Maintenance
Apply Tui Bulb Food to bulbs already in the ground.
Apply a side dressing of Tui NovaTec Premium fertiliser to shrub borders and flower gardens.
Add thick layers of Tui Mulch & Feed or Tui Pea Straw Mulch to garden beds and pots to conserve water, reduce weeds and add valuable nutrients back to the soil.
Mulching also keeps your garden looking tidy and cared for!
Aphids and whitefly are all still moving about now, particularly if the weather is still warm in your region. If infestations are small blast them off with the hose. If the infestation is larger, select a suitable spray from your local garden centre.
Lay Tui Quash every few weeks to keep slugs and snails at bay.
Move tender plants in containers up against the house to provide protection from cold temperatures.
Prune summer flowering shrubs and trees that have finished flowering.
Prune back summer flowering perennials and bulbs that have finished flowering for the season to tidy up garden borders and beds.
Lift and divide flowering perennials that have finished blooming.
Lift dahlias and gladioli, store in a dry dark place over winter.
Save and dry seeds of summer flowers for sowing in the spring.
Collect fallen leaves and add to the compost bin.