Spring in the garden - September
Spring has made a welcome arrival and your garden will be starting to come alive again! It's time to start planting spring crops and get your piece of paradise into tip top shape for the warmer months. Remove the last winter crops from the vege patch to make room for new season plants and plan where to plant new season blooms to brighten up your outdoor space.
Blend Tui Compost and Tui Sheep Pellets into garden beds in preparation for the upcoming growing season. If you haven't already done so, dig in green crops such as mustard and lupins. 
Popular crops for planting in spring include: beans, beetroot, broccoli, carrots, celery, lettuce, peas, potatoes, spinach, and spring onions. Keep an eye out for weeds. As soon as the soil warms up, everything - including weeds - will start to grow. 
Finish picking the last of the citrus crops and plant new season citrus trees for fresh fruit at your fingertips. Get your strawberry plants in the ground if you haven't already. A good rule of thumb is to plant five strawberry plants for each member of the household.
Harvest time is from seedling planting to harvest. For seeds, depending on variety, it will take an extra 6-8 weeks from germination to planting.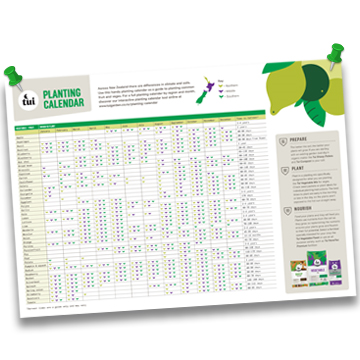 Download our planting poster
Our handy calendar shows you when to plant in your region, including harvest dates.
When should I plant
in
Jan
Feb
Mar
Apr
May
Jun
Jul
Aug
Sep
Oct
Nov
Dec
Harvest in

2-4

years
Plant
As temperatures warm you can start planting key summer crops.
Plant asparagus, basil, beetroot, bok choi, beans, cabbage, capsicum, carrot, cauliflower, celery, chilli, coriander, courgette, cucumber, eggplant, kale, lettuce, mesclun, parsley, parsnip, peas, potatoes, pumpkin and squash, radish, rhubarb, rocket, silverbeet, spinach, spring onions, sweetcorn, tomatoes.
Harvest
Beetroot, bok choi, broccoli, cabbage, carrot, cauliflower, celery, coriander, kale, lettuce, mesclun, onions, parsley, parsnip, peas, radish, rhubarb, silverbeet, spinach.
Maintenance
Plant
Apple, pear, raspberry, strawberry, blueberry, blackberry, boysenberry, feijoa, lemon, orange, mandarin, lime.
Harvest
Avocados, tamarillos, persimmon. Citrus including lemons, limes, mandarins, oranges.
Maintenance
Feijoa trees can be planted. Dig in compost and sheep pellets for planting and add a layer of Tui Garden Mix.
All fruits require a position in full sun. Shelter from prevailing winds is preferable.
If you're looking to add to your berry patch. Take a look at the Berry Growing Guide for a step by step guide to growing berries, or the Strawberry Guide for information on growing strawberries. To ensure a good crop prepare beds by working soil over with a fork, blend in Tui Sheep Pellets and add a layer of Tui Strawberry Mix prior to planting.
Strawberries, blueberries and gooseberries are all happy to grow in pots and containers. Plant into Tui Strawberry Mix and place in full sun.
In frost prone areas keep tender plants covered. Later frosts are more than likely to be still hanging about.
Spray stone fruit trees with copper to protect from leaf curl disease.
Prune feijoa trees once fruiting is over. Prune apples, pears and apricots.
Prune to promote new growth for more fruiting power and capacity, and to allow more light into the plant/tree. Always remove dead and diseased wood. Wait until summer to prune citrus trees, peaches and plums.
Apply Tui Organic Seaweed Plant Tonic at least every 4 weeks to keep your fruit trees thriving d based plant tonic promotes strong root growth and increases fruiting and flowering capacity.
Fertilise fruit trees in containers in warmer areas with Tui NovaTec Premium fertiliser.
Keep orchards and the areas around fruit trees weed free. Only use weed sprays that are non-residual near fruit trees.
Stake all young fruit trees to enable to roots to anchor themselves into the soil for the first few seasons.
Plant
Ageratum, alyssum, anemones, aster, azaleas, bougainvillea, calendula, camellias, carnation, chrysanthemum, cosmos, dahlia, Daphne, delphinium, dianthus, daisy, felicia, forget-me-not, fuchsia, gazania, geranium, gerbera, gladiolus, godetia, gypsophila, honesty, impatiens, lavender, lily, marigold, nasturtium, nemesia, pansy, petunia, penstemon , phlox, poppy, Queen Annes Lace, roses, rhododendrons, salvia, scabious, snapdragon, statice, sunflower, sweet pea, verbena, viola, wallflower, wisteria.
PICK
Camellias, Daphne, daffodils, tulips, lavender, tulips, hyacinths, freesias, anemones, poppy, orchids, stock, warratah, aquilegia, azaleas.
Maintenance
An application of Tui Organic Seaweed Plant Tonic every 2-4 weeks will keep your flowers thriving - this seaweed based plant tonic promotes strong root growth, reduces transplant shock, improves germination rates and increases flowering capacity.
Apply Tui Bulb Food to Christmas lilies and gladiolus, to promote good flower bud development for summer displays.
Apply Tui Novatec Premium fertiliser to flower borders and pots and containers to give plants a much needed boost for the upcoming season.
Apply Tui Bulb Food to spring bulbs as they finish flowering to ensure best flowering for next year.
Aphids, green fly and slugs and snails will actively be looking for food. Keep an eye out for these unwelcome pests.
Spray insects with a suitable spray as soon as they appear. Or if infestations are small blast them off with the hose.
Spray with fungal spray suitable for roses to control black spot, mildew and aphids.
Lay Tui Quash every few weeks to keep slugs and snails at bay.
Prune back Camellias as soon as they finish flowering.
Pot up hanging baskets with summer colour now in mild areas, blend in herbs or strawberries for some edible options.
Tie up sweet peas and clematis as the tendrils start to run.