Summer in the garden - December
Enjoy the festive season by harvesting and using fresh crops and flowers from the garden. Sprigs of mint brighten up salads, drinks and, of course, new potatoes, which will be ready for Christmas if they were planted in early spring!
Remember that water is the lifeline of the vege garden in summer. Plants are best watered in the morning or early evening, not during the searing heat of the day. Water deeply every few days rather than a little every day, as this encourages plants to develop deeper roots.
Pick vibrant summer blooms including roses which are in full bloom leading up to Christmas. Pick them in the morning and they can last for a good week in a vase with fresh water.
It seems only fitting that plenty of red coloured fruits ripen this month including strawberries, raspberries and currants - just in time for the festive season!
Harvest time is from seedling planting to harvest. For seeds, depending on variety, it will take an extra 6-8 weeks from germination to planting.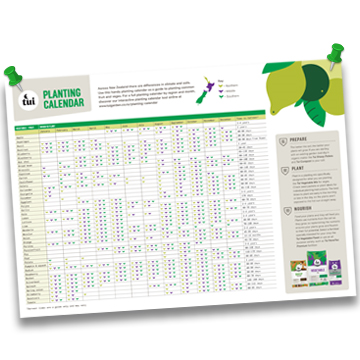 Download our planting poster
Our handy calendar shows you when to plant in your region, including harvest dates.
When should I plant
in
Jan
Feb
Mar
Apr
May
Jun
Jul
Aug
Sep
Oct
Nov
Dec
Harvest in

60-85

days
Plant
Basil, beetroot, beans, capsicum, chilli, coriander, courgette, cucumber, eggplant, lettuce, mesclun, parsley, pumpkin and squash, radish, rocket, silverbeet, spinach, spring onions, sweetcorn, tomatoes.
Harvest
Basil, beetroot, beans, broccoli, cabbage, capsicum, carrot, cauliflower, celery, chilli, coriander, courgette, cucumber, eggplant, garlic, lettuce, mesclun, parsley, parsnip, peas, potatoes, pumpkin and squash, radish, rocket, silverbeet, spinach, spring onion, sweetcorn, tomatoes.
Maintenance
Soak seedlings in Tui Organic Seaweed Plant Tonic before planting to prevent transplant shock, and apply every 2-4 weeks to promote strong root growth, cope with the warmer temperatures and keep your garden thriving.
Tomatoes are hungry plants so keep feeding tomatoes planted in garden beds with Tui Tomato Food.
Keep an eye out for slugs, snails, caterpillars, aphids and whitefly. These unweclome visitors can make a real mess of your vegetable garden and are best dealt to as soon as possible. Lay Tui Quash slug & snail control to control slugs and snails.
Blast small infestations of aphids and whitefly off with a hose, or if the infestation is large spray with a suitable insect spray.
Mildew may appear on courgettes and cucumbers; spray with a suitable spray from your garden centre to control it.
Onions and garlic: these are traditionally harvested within a month or so of the longest day. The leaves of both onions and garlic will tell you when they are ready to be harvested: the tops will begin to wither and die down. Harvest by digging up the plants with a fork, knock off the excess soil, and leave to dry in the sun for a number of days until the skin resembles paper. Store in a well-ventilated, dry place.
Plant
Blueberry, strawberry, passionfruit, grapes, kiwifruit and tamarillos.
Harvest
Currants, gooseberries, blueberry, mulberry, strawberries and other berries including blueberries, boysenberries, raspberries and blackberries.
Maintenance
Add Debco SaturAid to help soil hold onto water and distribute to where it is needed most.
Mulch around plants with Tui Pea Straw Mulch to help the soil retain moisture.
Aphids, whitefly and scale insects may be about, blast with a hose or select a suitable spray from your garden centre.
Spray pip and stone fruit with copper to help prevent and limit the spread of fungus diseases.
Prune citrus, to open up the framework of the plant to allow more light into the centre of the plant.
Fertilise with Tui Citrus Food around the drip line after pruning.
Fertilise fruit trees with Tui NovaTec Premium fertiliser.
Apply Tui Organic Seaweed Plant Tonic every 4 weeks or so will keep your fruit trees thriving - this seaweed based plant tonic promotes strong root growth and increases fruiting and flowering capacity.
Only use weed sprays that are non-residual near fruit trees.
Stake all young fruit trees to enable to roots to anchor themselves into the soil for the first few seasons.
Taller growing berries such as boysenberries, blackberries and other scrambling will require staking or wires to grow along to keep fruit up off the ground.
Plant
Begonias, petunia, impatiens, calendula, chrysanthemum, dahlia, echinacea, verbascum, verbena, alyssum, cosmos, gaillardia, arctotis, marigold, nemesia, salvia, penstemon, nicotiana, nigella, hollyhock, Peruvian lily, daisy
delphinium, dianthus, fuchsia, gerbera, lavender.
pick
Peruvian lily, roses, cornflower, hydrangeas, carnations, delphiniums, lilies, gladiolus, sweet peas, gypsophila, sunflowers, geraniums, cosmos, poppies, scabious.
Maintenance
Encourage longer blooming of calendulas, delphiniums, penstemon, gaillardia, nemesia by liquid feeding with Tui Seaweed & Fish Fertiliser and removing faded blooms.
Fertilise roses with Tui Rose Food to give the last blooms of the season a boost.
Fertilise pots and containers along with hanging baskets with Tui NovaTec Premium fertiliser.
Insects can be a real problem now, particularly sap sucking aphids. Be vigilant and spray with a suitable spray from your garden centre. Or if infestations are small blast them off with the hose.
Keep laying Tui Quash slug & snail control to prevent slugs and snails ruining your blooming Christmas.
Prune back roses and hydrangeas after flowering, to encourage blooms for following season.
Cut back roses before Christmas to re-bloom for Valentine's Day. Roses take 6 weeks to re-flower once pruned.
Deadhead penstemon, delphiniums and hanging baskets to encourage new flowers.
Take this last chance to cut back fuchsias to allow new season's growth plenty of room.
Add thick layers of Tui Mulch and Feed or Tui Pea Straw Mulch to garden beds and pots to conserve water, reduce weeds and add valuable nutrients back to the soil.
Tall stems of gladiolus and Christmas lilies, delphiniums may need support to keep flower stems from falling over, tie stems to stakes or provide frames.
Sweet peas – keep providing support for the vines to climb up, more vines mean more flowers.