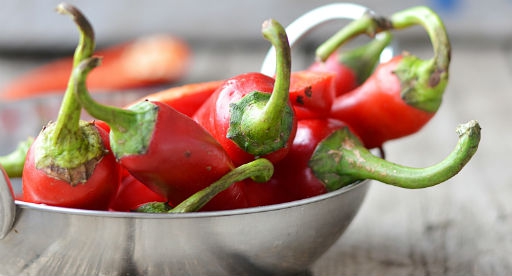 Put your summer chilli and capsicum harvests to good use with this tasty and versatile sweet chilli sauce. Thank you to Elaine of Taranaki for sharing her recipe!
Ingredients
250g hot chillies
250g capsicums
4 cloves garlic
3 cups cider vinegar
3 cups white sugar
1 10cm piece of fresh root ginger, peeled and chopped.
1 tbsp cornflour
Salt to season
Place chillies, capsicums, garlic and chopped ginger into a food processor.
Blend until finely chopped.
Put mixture into a saucepan and add remaining ingredients.
Cook over a high heat and bring to the boil. Stirring often. Then turn down to simmer for about 40-60 minutes or untill mixture thickens. Stir occastionally.
Add cornflour mixed in a little cold water, at the end of cooking.
Pour into sterilised bottles and seal while hot.