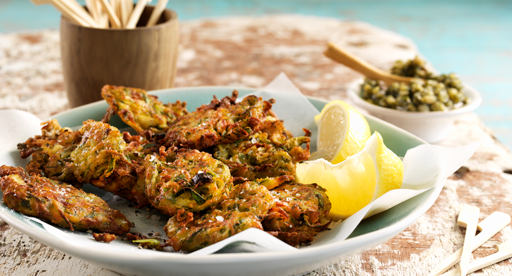 One will never be enough! Light and delicate, these fritters are bursting with flavour from the feta, fresh courgettes and pesto. Eat them just as they are, or squeeze over some lemon juice as you eat them.
Ingredients:
3 courgettes, grated
2 spring onions, chopped
½ cup chopped fresh herbs (parsley, dill, mint)
2 eggs, lightly beaten
¼ cup flour
3 Tbsp Mediterranean Basil Pesto Chunky Dip
1 tsp lemon zest
100g crumbled feta
Lemon wedges
Makes: 30 fritters (approx.)
Prep time: 10 minutes
Cook time: 15 minutes
Method:
In a large bowl mix courgettes, spring onions, fresh herbs, eggs, flour, Mediterranean Basil Pesto Chunky Dip, lemon zest and feta.
Season to taste.
Heat a dash of oil in a frying pan and cook small spoonfuls of the mixture for 2 minutes on each side or until golden and cooked through.
Serve with additional Mediterranean Basil Pesto Chunky Dip and lemon wedges.
For more tasty recipe inspiration visit