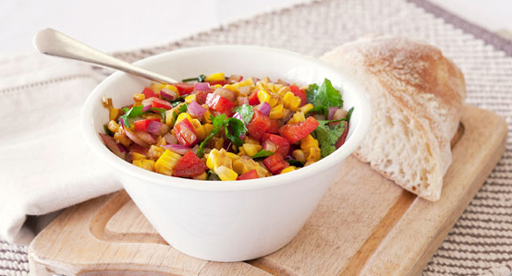 Char-grill your homegrown corn to add extra flavour to this low carb salsa. Perfect over the summer season. 
iNGREDIENTS
2 cobs of corn
1 tablespoon olive oil
1 red capsicum, finely chopped
1 tablespoon finely diced red onion
1 1/2 tablespoons balsamic vinegar
1 1/2 tablespoons chopped coriander
1 1/2 tablespoons olive oil
Salt and freshly ground black pepper
METHOD
Brush corn with olive oil and cook on a barbecue or grill plate until coloured all over.
Allow to cool enough to handle and then scrape the kernels off with the blade of a knife.
In a bowl combine corn with red onion, balsamic vinegar, coriander and olive oil.
Season to taste with salt and freshly ground black pepper and refrigerate for at least 1 hour for flavours to merge. 
Serve with grilled chicken.
Recipe supplied courtesy of www.foodlovers.co.nz