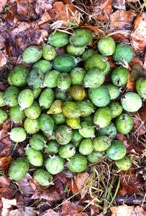 This recipe for Feijoa and Ginger Jam was kindly supplied by Heather from Waikanae Beach as part of the Harvest Recipe competition. A keen amateur gardener, Heather has 9 feijoa trees on her property and makes the most out of them when they are in season. She says that the ginger adds a nice 'surprise' element to the jam.
Ingredients
1 kg feijoa flesh (cut in half and scoop out the flesh)
2/3 cup water
600gm white sugar
Grated rind and juice of 1 lemon
1 packet of crystalised ginger - chopped into chunks
1 tsp powdered ginger
Bring water and feijoa pulp to the boil in a large pan, and cook rapidly until the fruit is soft.
Add lemon juice, rind and sugar, and stir until all the sugar has dissolved.
Add the ginger powder.
Bring back to a rapid boil, stirring from time to time so it doesn't stick on the bottom of the pan.
After about 10 minutes, check a small amount of jam on a plate, push with your finger and if it ripples, it is at setting point. If still too runny, boil a further 5 minutes and check again.
Stir through the chopped ginger.
Bottle in sterilized jars and seal.