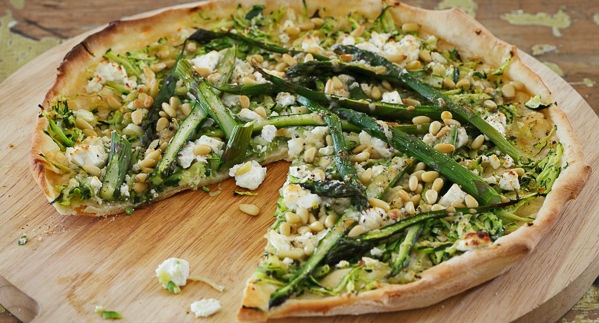 Asparagus is a gardener's and cook's delight during spring! The distinctive taste of goat's cheese, finishes this asparagus pizza off perfectly. Thanks to Helen Jackson www.foodlovers.co.nz for supplying this recipe.
Ingredients
Base:
400g high grade flour
3 tsp yeast granules
Scant teaspoon of sugar
250ml of luke warm water
2 tsp sea salt
3 tablespoons olive oil
Topping:
2-3 medium courgettes
1 clove garlic, finely chopped
Finely grated rind of 1 small lemon
8 asparagus spears
125g goats cheese
Extra virgin olive oil
1/4 cup pine nuts
To make the pizza dough dissolve the yeast in the warm water along with the sugar.  Allow to sit for 5 minutes until frothy.
Sift the flour into a bowl and make a well in the centre, pour the yeast mixture into the well and mix into the flour along with the salt and olive oil. Mix until the dough comes together and then knead for 7 minutes or so until the dough is smooth and elastic. 
Place the dough in a lightly oiled bowl and cover. Place the bowl in a warm place and leave for 1 1/2 hours or until dough has doubled in bulk. Alternatively you can make dough in your breadmaker by using the dough setting.
Divide the dough in half and roll out into 2 discs of approximately 28cm in diameter. Preheat oven to 220 C.
Place one disc on a pizza stone or oiled pizza tray.
Press any excess moisture out of the courgettes and then distribute evenly over the pizza base leaving a 1-2cm edge around the outside. 
Sprinkle over the garlic and the lemon rind.
Slice the asparagus spears in half lengthways and scatter over the pizza.
Crumble over the cheese, drizzle with olive oil and season with salt and freshly ground black pepper.
Place the pizza into the hot oven and cook for 10 minutes before sprinkling over the pine nuts.  Cook for a few minutes more until the crust is golden and crisp.
Serves 2-3.

*pizza base recipe is enough for 2 pizzas so cover the second base with your choice of toppings.