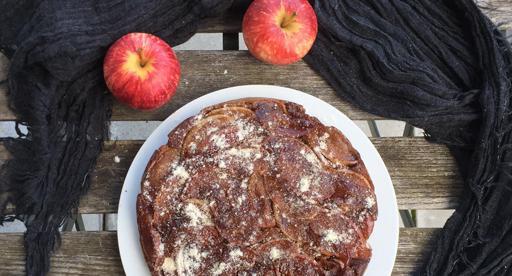 The gluten-free upside down apple cake is a wonderful way to use up your abundance of tasty apple harvests! Thank you to Nadia from the Barn Kitchen for sharing this recipe.
Ingredients
4 small red apples
4-5 tbsp coconut oil
2/3 cup coconut sugar
1 tsp cinnamon
1 tsp all spice
3 large free range eggs
½ cup millet flour
1/3 cup coconut flour
Note: To make it gluten-free this recipe uses millet and coconut flour, however, you can use brown rice flour as well. 
Pre-heat the oven to 22O C.
Slice the apples into thin slices. Melt the coconut oil on a frying pan, add 1/3 cup coconut sugar and spices: cinnamon, cloves, nutmeg or all spice and 1 tsp vanilla extract.
Cook them until they become soft, then spread the apples in the baking form. Sometimes they produce so much juice, you might want to drain them. Set the spiced oily liquid aside - we will need it for the batter.
Put the apples into the pre-heated oven.
While the apples are caramelizing in the oven, make the batter. Beat the eggs well, add millet flour, and the leftover liquid from frying the apples. Then add coconut flour and coconut sugar, and a pinch of sea salt.
Beat until it's all smooth, then take the apples out of the oven, and pour the mix over them carefully.
Lower the oven temperature to 165, and bake for about 25-35 minutes, until the cake turns dark brown and the stick comes out dry.
When the cake is cool, flip it over on a plate, and sprinkle the top with some coconut sugar and shredded coconut. It goes well with dark coffee or hot black tea.