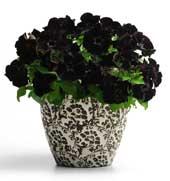 'Black Goes with Everything"
Black Velvet presents the world's only black petunia and there's a lot of buzz around this unique colour. Black Velvet is like your little black dress, its goes with everything.
A perfect fit for premium baskets, containers and general garden use, this combo–friendly petunia partners well with many other sun lovers. These upright, mounded petunias are early to flower, have a tightly branched habit and are filled with colour all season. Black Velvet is easy to grow.
Black Velvet is available at all good garden retailers.