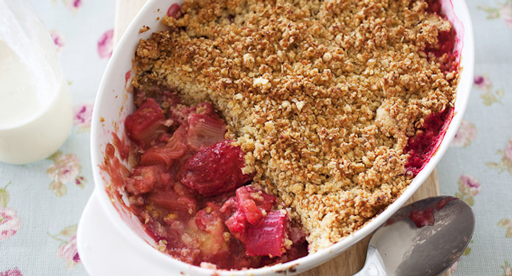 A good crumble is a winter staple, and this recipe is sure to be a crowd pleaser.
Ingredients
6 rhubarb stems, chopped into 2cm pieces
1/4 cup sugar
125g butter
1 cup brown sugar
3/4 cup plain flour
1 cup desiccated coconut
1 cup cornflakes
1 tsp ground ginger
1 tsp ground cinnamon
2 (firm) ripe bananas, sliced
1 cup berries (fresh or frozen)
Preheat the oven to 180 C
Place rhubarb in a baking dish (the one you will cook the crumble in)
Sprinkle sugar over it, cover with a lid or foil, and bake for 15 minutes
Beat the butter and brown sugar until pale and creamy
Mix in remaining ingredients apart from fruit and combine well.
When rhubarb is cooked, add banana and berries, and then sprinkle with crumble topping.
Cook for 30 minutes or until topping golden and firm.
Recipe taken with permission from The Tui NZ Vegetable Garden, by Rachel Vogan, recipes by Helen Jackson www.foodlovers.co.nz