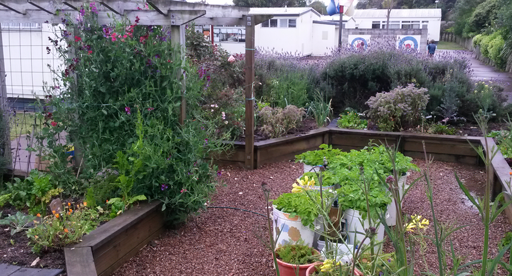 At Garden to Table school Te Huruhi Primary School on Waiheke Island the gardens have been full of deliciousness and enjoying the warmer weather. They've been harvesting lots of leafy greens: kale, cavelo nero, silverbeet, spinach, radishes, broad beans, red cabbage, leeks, mint, parsley, rosemary. And there's been a lot of citrus around so they've quenching their thirst with tangy lemonade! Read their full update below.
The Year 5 children at Te Huruhi School only have a couple more sessions of Garden to Table before the end of term but wow they've done some amazing things this year and learnt spade loads of skills that they can take with them through their lives.
It's always a challenge to have enough produce to feed up to 60 people every week, so the fast growing leafy greens and radishes are something that we always keep a good stock of. They're excellent for filling little tummies with cheesy green fritters, green herb scones and salads of the imagination. Cabbages and pumpkins also stretch a long way and are a versatile vegetable in the kitchen. Hopefully our potatoes will be ready soon, they're looking terrific in their recycled bins!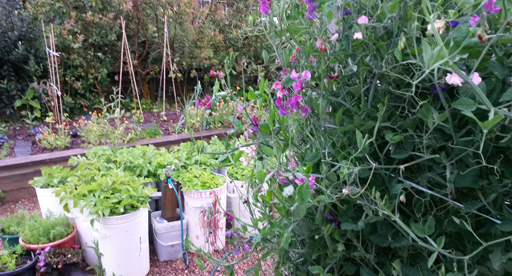 We're largely looking toward 2017 for our planting as we're getting close to the end of the school term. We've been planting capsicums, tomatoes, celery, kales, pumpkins and beans so we should start the year with plenty of goodies to harvest. We've filled gaps in the garden with legumes like beans and peas – even if we're not here to harvest them when they're ready we'll be able to dig them back into the ground as a great nitrogen source for the soil. The gardens are also full of flowers to put on a sunny display over summer – sweet peas, phacelia, cardoons, borage, calendula, forget me nots, nasturtiums, sunflowers to name a few.
In preparation for summer we're giving everything a good feed with Seasol to top up their nutrient supply and covering everything with mulch to keep the moisture in and the weeds at bay. Tui Pea Straw Mulch is an excellent mulch for this.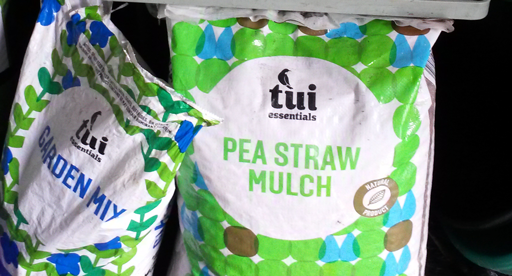 Recently our school gardens were a part of the Waiheke Island Garden Safari where people come and visit an array of amazing gardens on Waiheke Island and the funds raised go to the Jassy Dean Trust which supports local families with sick children. We worked hard to get everything looking smart and the whole school got behind the preparation. The feedback we received was incredible and people loved hearing about how we run the Garden to Table programme.
Our little market stall and refreshments 'café' were also a great hit, our student designed tea towels and cookbook were a huge success with visitors. The real reward was seeing so many children from the school proudly leading their families and friends around their school, telling them what they do and how they do it, naming plants, explaining processes and generally taking ownership and pride in their school and the work they have been doing in the gardens. It doesn't get any better than that.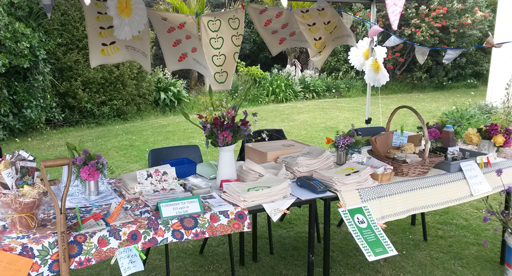 The Garden to Table program is a huge success at Te Huruhi School thanks to everyone involved and the support from the wider world, the younger children eagerly await their turn as the the current year 5's are sad to see theirs coming to an end. But as they do so it's with lifelong skills and hopefully we've instilled with them the joys and benefits of being able to Grow, Harvest, Prepare and Share. What a great year it's been!
Tui & Garden to Table
We are excited to be supporting Garden To Table as our school programme again this year. Garden to Table is a trust, which runs a gardening and cooking programme in schools across New Zealand. As participants in the Garden to Table programme, seven to 10 year-old children spend time in a productive vege garden and home-style kitchen each week. There they learn skills that will last them a lifetime, and discover just how much fun it is to grow and cook their own seasonal vegetables and fruits.
Tui is providing starter packs to each of the new schools, and seasonal packs during the year.