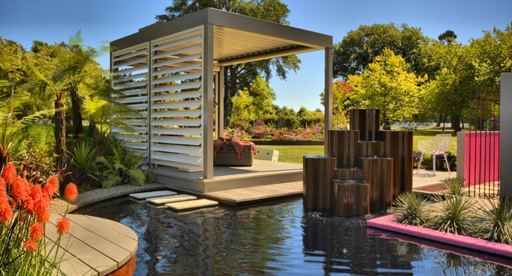 I've learnt over the years from designing and advising my clients that you really do need to start by defining how you are going to use the space and how much time you can actually dedicate to maintaining your garden. As most garden designers would agree there is no such thing as a low maintenance garden.
Next would have to be a study of your site, starting with your soil type. Examine the soil to see whether it is heavy clay, sandy free draining, or dark rich earth. Now, you can start thinking about what needs to be done to improve it.
The foundation of all healthy gardens will always be soil that is rich in organic matter. Soil testing, (to determine acid or alkaline), soil conditioning and improvements to drainage will all benefit the longevity of your garden.
You will need to take into consideration, wind, rainfall, sunlight and climate before choosing plants. Winter time could pose challenges for more delicate plants while summer could put considerable constraints on valuable water.
EXISTING OR NEW?
No matter what the space, start with a scale plan and work out how you want to divide the garden up or how you want to live in it. I think that when you look from the most often used rooms in your home, like your kitchen or living room then the view beyond should always be aesthetically pleasing. Consider using feature plants in these spaces to create focal points.
Existing gardens with structures and established plants can be incorporated into your new plans. Don't be too hasty to remove them as the cost to reinstate could slow your development process. Landscaping can be expensive, so, as in many cases being able to work with what you already have can be a bonus. Some plants can be moved around, trees can be trimmed and structures along with paving can easily be re-vamped to freshen up and tie in with your new scheme.
If you are looking for instant rewards look at using retailers who can supply hedges and trees that are of an advanced stage. I have found that when you add larger plants that form the structure of your garden you very quickly get a sense of establishment of your garden and presence which can help with your enthusiasm to keep focused on further development or care of your garden.
Confidence and experience are wonderful but we cannot all be experts at everything we do. A garden consultation with a recommended garden designer can be beneficial and a wise investment prior to embarking on new landscaping. You may even go down the track of a concept plan following on from the initial meeting.
TIPS WHEN RE-VAMPING OR BUILDING A NEW GARDEN
Local garden centre relationships are paramount especially when first starting out, learn about plants and their suitability for your garden.
Join your local garden club along with online subscriptions to garden blogs.
Learn about soil and how to build healthy soil with local or home sourced ingredients like leaves and green waste recycling.
Don't be afraid to ask questions even if you think they might be silly.
Don't go it alone! Many hands do make for a very nice garden just remember to return the favour.
Be realistic and try to stick to the plan.
Follow the seasons. Generally I recommend: autumn for planting, winter for preparing, spring for flowers, and summer for enjoying fresh produce!
By Tony Murrell.
Photo credit: Rachel Vogan.