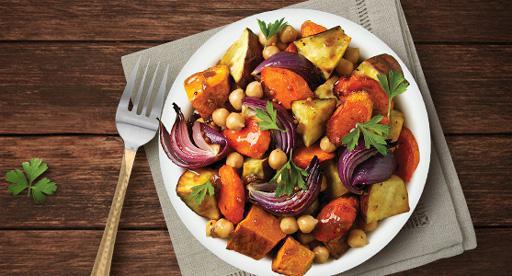 Salads aren't just for summer. This version with popular winter vegetables can be enjoyed any time of the year. With the addition of chickpeas there's protein, great flavour and texture.
Ingredients
300g pumpkin
1 large kumara
2 medium carrots
1 red onion
400g can Wattie's Chickpeas in Springwater, drained
250ml bottle Eta Caramelised Onion Dressing



Prep time: 20 minutes
Cook time: 25 minutes
Preheat oven to 200 °C. Prepare the vegetables. Remove the skin from the pumpkin and kumara and cut into 1.5cm chunks. Peel and thickly slice the carrots into rings. Cut the red onion into small wedges. Place on a tray. Toss 2 Tbsp of olive oil through the vegetables. Roast for 20-25 minutes, until vegetables are tender.
Put the vegetables into a large bowl. Add Wattie's Chickpeas in Springwater. While the vegetables are still warm pour over ½ cup of Eta Caramelised Onion Dressing. Mix through the vegetables.
Serve salad at room temperature.
For more tasty recipe inspiration visit