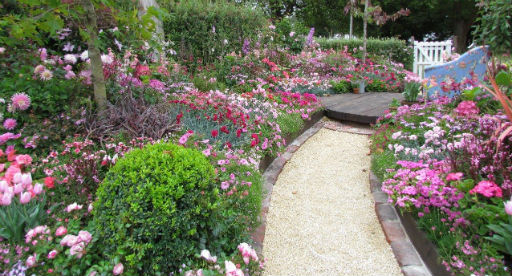 Cottage gardens have a vintage and charismatic charm that resonates with plant lovers. For some they symbolise memories of a grandparent or a drive through the English countryside.
The primary elements in cottage gardens are flowers and colour.
Modern day design is all about clean lines, with a less is more approach to plants, furniture and furnishings. Cottage gardens are the complete opposite, the more plants the better. The mix of plants are captivating with their myriad of old fashioned looking flowers, perfume and variety.
Part of the appeal is the unstructured, romantic and whimsical look, almost like Mother Nature created it herself. Once established, plants readily self seed and multiply, covering all available soil, becoming almost a blur of foliage and flowers.
The cottage garden style has been evolving for centuries; its origins are traced back to working class Victorian times, where the workers lived in cottages. At that time, growing food was the priority, as time went by, flowers started to creep into the vegetable garden along with chickens, fruit trees and herbs.
Creating a cottage garden
Cottage gardens don't really have any rules, its up to the individual; they tend to suit those who don't like to be restricted to plant choice, straight lines and formality. Some may say, a more casual approach, but on the other hand a well thought out and carefully planted cottage garden will have all year round seasonal interest and it can pretty much manage itself once planted.
Recycle and reuse
A cottage garden layout can blend in all sorts of features from picket fences to brick walls to pergolas and statues through to chicken coops, tee pees and seating areas. Old water tanks, farm implements, rustic furniture, corrugated iron, railway sleepers and old tools, like water cans all add to the charm.
Top tips for cottage gardens:
Don't be afraid to plant in every available plot of soil.
Group plants of a similar colour together.
Find room to place a seat in a secluded or tranquil corner.
Select plants that readily self seed and multiply, these will fill in any gaps as the seasons go by, leaving no room for weeds.
Avoid planting in straight lines and rows.
Scatter wild seed packets around in spring and autumn to see what pops up.
Typical cottage garden plants - here are just a few choices:
Regardless of what flowers you want to grow, you will only be successful if you choose flowers that suit your local climate.
Flowers – cosmos, delphinium, dahlia, foxgloves, cornflower, poppies, hollyhock, larkspur, marguerite daisy, lady's mantle, lavatera, stock, penstemon, echinacea, gaura, salvia, and achillea
Wildflowers and herbs
Vegetables – silverbeet, kale, cavalo nero, runner beans
Shrubs – hydrangea, roses, cistus, lavender
Old fashioned roses
Climbers
Fruit trees, currants, brambles
Hedges – beech, escalonia, buxus, lonicera
Remember you don't need to have a cottage like house to have a cottage garden; modern houses and apartments can blend in cottage elements into the garden by using low hedges as a border in behind which cottage plants can be grown.