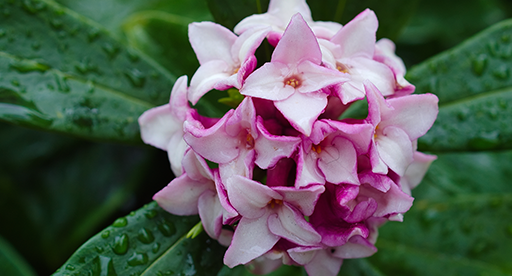 Add some beautiful blooms and sweet scents to your winter garden! We've put together a list of our favourite winter flowering shrubs so you can enjoy a pop of colour and fragrance through the colder months.
Daphne
It's hard to match the fragrance of delightful Daphne. These beautiful winter blooms come in shades of white, pink and purple, and although they can be planted in pots, they do better in the garden. Make the most of them by choosing a spot where you can easily enjoy the fragrant flowers - near a path, doorway or window that is often left open. Daphne is an ideal cut flower and will last for days in water, a great way to bring nature to you in the colder months.
Daphne enjoy a moisture retentive, free draining slightly acidic soil, rich in organic matter rather than a heavy soil. To thrive they need moisture retentive soil and roots in the shade. Larger leaf Daphne 'Leucanthe' or 'Rubra' grow well in semi shade, and smaller leaved burkwoodii or cneorum will handle full sun.
One of the easiest Daphne to grow is the evergreen 'Perfume Princess' which can be planted in full sun and flowers over a longer period than most Daphne. Daphne burkwoodii has masses of fragrant tiny pink flowers in late winter early spring. Daphne 'Rubra' has deep pinkish red flowers, but less fragrance.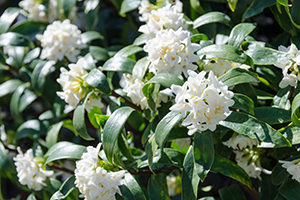 Vireya 
These evergreen tropical rhododendrons bring a burst of colour and of joy to a winter garden. They need to be kept in a frost free spot so beneath trees, eaves, or under cover on the patio is ideal. Their fibrous root system makes them ideal for pots and containers, filled with a quality free draining potting mix. Vireyas come in a range of vibrant tropical colours as well as some more muted tones for those who prefer something more subtle. 
They are not seasonal flowering plants and can flower any time, mainly from autumn onwards. Vireya rhododendrons are epiphytes (as are orchids) and so grow well in full sun and dappled shade, some protection from harsh summer sun is beneficial, and good drainage is essential for success.
Types to look out for are Tropic Glow, Cameo Spice, Dawn Chorus and Java Rose.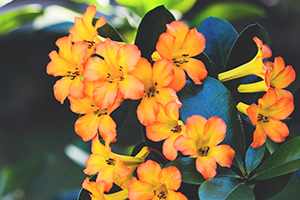 Azalea
If you're looking for a riot of bright colourful flowers, azaleas are for you. The evergreen varieties are hardy and suitable to most climates, although they don't like hard frosts when young. Plant in free draining slightly acid soil rich in organic matter, head in the sun, roots in the shade.
Azaleas are happy in pots and containers as long as they are well-watered and the soil is free-draining.
There are hundreds to choose from but a few evergreen varieties to look out for are Inga, Aline, Kirin and Rose Queen. Don't overlook the fragrant deciduous Ilam azaleas for a burst of colour late in winter.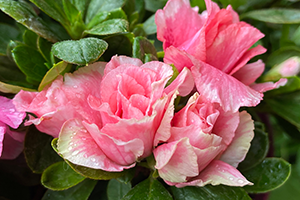 Gardenia
Gardenia make a statement like no other and their intoxicating scent that can whisk you away to a tropical island holiday. These no-fuss plants have lush green foliage and produce lovely fragrant blooms for many months. They thrive in sheltered areas protected from harsh frost and are ideal for pots and containers. They can also be grown as an indoor plant or brought inside when in flower. 
Gardenia are like rhododendrons, azaleas and camellias, they love moisture retentive, free draining slightly acidic soil, rich in organic matter rather than a heavy soil. They are tolerant of full sun or shade and need to be watered well through the summer months. 
Types to look out for include Fragrant Star, Professor Pucci, Radicans and Veitchii.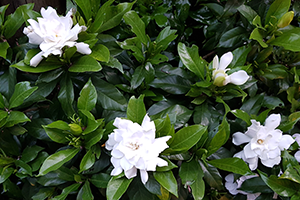 Flame vine
Pyrostegia venusta, also known as flame vine, is a beautiful evergreen climber that puts on a dazzling show of colour and will flower for many months. This vigorous climber is ideal for training up trellis, walls, fences and pergolas. It requires maximum heat and sun so is best planted in a sunny spot with well drained soil.