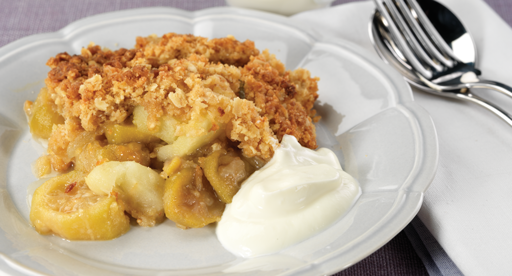 If you are growing feijoas in your backyard, this autumn you may have so many feijoas that you don't know what to do with them! Keep this recipe handy and create feijoa and apple crumble - a fantastic autumn treat.
Ingredients
Crumble:
75 g butter, diced
½ cup flour
¼ cup thread coconut
¼ cup rolled oats
½ cup brown sugar
Fruit Base:
12 ripe feijoas, peeled and sliced
2 apples, peeled and sliced
½ cup Cottee's Maple Flavoured Syrup
Prep time: 10 minutes
Cook time: 35-40 minutes
Preheat the oven to 180°C.
To make the crumble place all ingredients into a food processor. Blend or pulse until combined.
Place the fruit in a souffle or baking dish.
Pour over maple syrup and mix.
Top with the crumble mixture.
Bake for 35-40 minutes, until fruit is cooked and crumble crisp and golden.
Tips
Double the crumble mix and then freeze the leftovers. Great to have on hand for a speedy dessert.
Replace maple syrup with 1/4 cup of sugar if wished.
For more tasty recipe inspiration visit