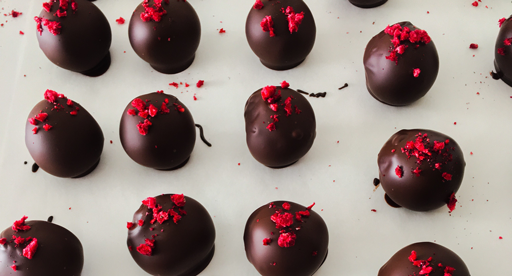 These tasty little treats shared by Holly are the perfect addition to your Christmas feast. Made using chocolate cake or brownie mix, liqueur and raspberries, these truffles are sure to delight the crowd. They also make a wonderful gift too - if they make it that far!
Ingredients:
2 cups good quality pre-made rich chocolate cake or brownie
2 tablespoons of liqueur – whisky, brandy or Chambord tend to work best here
250g good quality chocolate
¼ cup freeze-dried, or fresh raspberries if you are going to serve the truffles immediately.
Method:
In a food processor, finely chop your chosen cake or brownie. If using a cake with icing you may need to add some plain biscuit crumb so the mix just holds together when pressed between fingers but is not wet.
Add the liqueur and blend well. If you find the mix is too dry or you do not wish to add alcohol, you can add melted butter or coconut oil 1 tablespoon at a time until the mix can be rolled into balls.
Divide the mixture into 24 and roll into balls. Place on a tray lined with non-stick baking paper and pop in the fridge to firm up (this will take about half an hour).
Melt chocolate slowly and at a low temperature.
Pour into a tall glass or bowl and dip the truffles one by one, placing them back onto the lined tray and giving each a quick sprinkle of freeze-dried raspberries before the chocolate shell sets. As the truffles have come from the fridge you'll find the chocolate sets quickly.
The truffles will keep for a week in an airtight container, or if your house is very warm they can be kept in the fridge.
Enjoy!
Holly's
For more recipe inspiration follow Holly on Facebook and Instagram: @madebyhollys