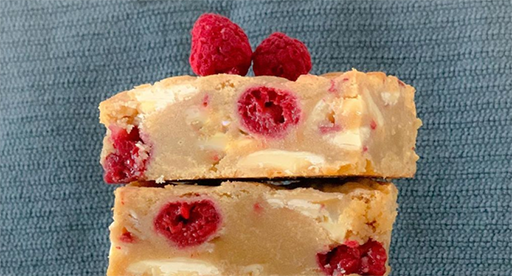 Put your homegrown raspberries to good use! Holly shares her recipe for Raspberry & White Chocolate blondies - the perfect special treat this Christmas or fun to make with the kids these school holidays.
ingredients:
170g butter
1 1/4 cups brown sugar
1 1/2 cups flour
2 teaspoons vanilla essence 
1 egg
150g white chocolate chucks 
1/2 a cup of raspberries (fresh or frozen)
Preheat the oven to

180° C fan bake and l

ine an 8 inch square pan with baking paper.

In a large bowl add 170g of softened butter, 1 1/4 cups brown sugar, 2 teaspoons vanilla essence, 1 egg and 1 1/2 cups of flour. 

Mix to combine with a wooden spoon.

Next add 150g of white chocolate chunks and 1/2 cup of raspberries (you can also use frozen).

Bake for 30 minutes or until golden brown.
Enjoy! Follow @madebyhollys for plenty more delicious recipe inspiration!