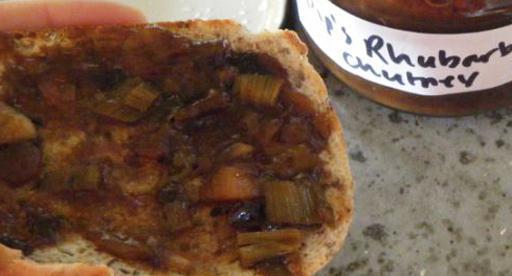 This rhubarb chutney has a lovely dessert like fruitiness. Try it on raisin bread for a healthier alternative to cake. Best eaten after a month storage, but get stuck in if you can't wait! Thank you to Pip for sharing her recipe.
Ingredients
2 red onions finely diced
250ml of selection of vinegars (just a mix of whatever you have)
2 large eating apples finely diced (skins removed)
2 tsp ginger
2 tbsp masala curry powder (medium-hot to give it a little kick)
1 bag of plumazins (you could use chopped dates or raisins instead)
Good grind of salt
300-350g sugar (I use brown but any will do)
700g finely chopped rhubarb
You will need enough jars to hold 1500g, a potato masher and a heavy based saucepan.
Firstly wash and dry your empty jars and lids and put them in a cold oven. Heat to 150 degrees for at least 10 minutes to sterilize. Then switch the oven off and leave the jars inside. (Only take them out when you're ready to jar-up or the change in heat can cause them to crack).
Meanwhile chop the onions finely.
Pour the vinegar(s) into a heavy based pan and add the onions, ginger and masala.
Cover and boil for 10mins. Chop the apples while you wait.
Remove lid (you no longer need the lid) and reduce heat to medium low. Add the apples along with the plumazin and sugar. Simmer for about 10 mins.
Finely chop the rhubrab stalks and add them last. Cook uncovered for 15-20mins.
Turn off hob heat and start mashing. (Avoid processors as they destroy those yummy fruity lumps!) You want to mash down all the big lumps but still leave the little lumps. Add a good grind of salt to your liking.
After about 10-15mins without the heat on, enough steam should have released and you're ready to jar-up. Cut a piece of baking parchment just a tad smaller than the lids and seal the top with that before screwing on the lid.
Don't forget to label once the jars have cooled!