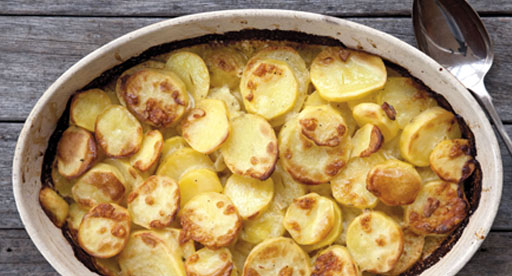 Every cook has their own way of making this classic dish and usually it involves lots of careful layering. Annabel Langbein has her own 'free range' method, where you simply toss everything together.
You can make this recipe ahead of time by baking it for half the time and then finishing it off just before you serve it.
INGREDIENTS
10 (2kg) large potatoes, peeled and sliced 1-1.5cm thick
4 cloves garlic, finely sliced
100g gruyere or cheddar cheese, coarsely grated
1-1½ cups cream
2 tsp salt (more if using flaky salt)
ground black pepper
METHOD
Preheat oven to 200°C.
Grease the base and sides of a shallow 30 x 25cm baking dish.
Place the sliced potatoes, garlic, cheese, cream, salt and pepper in the baking dish.
Toss to combine, making sure each potato slice is coated with cream.
Spread mixture evenly in the dish.
Bake until potatoes are tender and golden – about 1-1¼ hours.