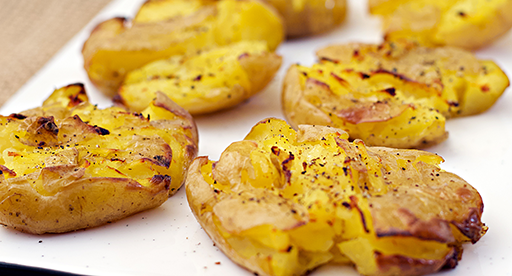 Leave the skins on your potatoes with this delicious recipe from Love Food Hate Waste.
Smashing your potatoes instead of mashing them not only reduces food waste but means you'll be eating all the useful nutrients from the skin. Try this recipe for fluffy on the inside, crispy on the outside smashed potatoes.
Ingredients:
1 kg of potatoes
1 tablespoon salt
4 tablespoons olive oil - divided
2 tablespoons chopped fresh green herbs (optional)
Black pepper, to taste
Method
Scrub the potatoes clean. Cut off any parts where the potato has begun to sprout.
Place the potatoes in a pot and fill with water until just covered.
Add 1 tablespoon of salt.
Bring the mixture to a boil over medium-high heat and cook until the potatoes are soft (about 20 minutes).
While the potatoes cook, preheat the oven to 180 degrees Celsius and drizzle or brush 1 tablespoon of the olive oil over a large baking sheet.
When the potatoes are cooked, drain them in a large colander.
Flatten the cooked potatoes using the back of a fork or a potato masher and arrange in a single layer on the lined baking tray. The thinner they are, the crispier they'll be.
Drizzle the remaining 3 tablespoons of olive oil over the smashed potatoes. Sprinkle with salt and pepper.
Bake for 20-25 minutes or until golden brown.
Serve on its own as a snack or side or with your favourite sauce.
This recipe works well with any potato variety, and you can add extra flavour by sprinkling the potatoes with parmesan cheese and garlic butter.