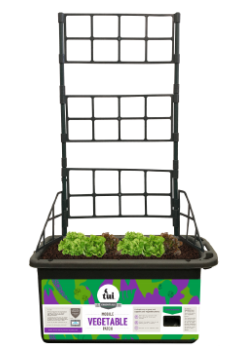 Tui Mobile Vege Patch
The Tui Mobile Vegetable Patch is self watering and a simple way to grow and support your vegetable plants.
The large growing area allows room for climbing plants as well as lower growing vegetables and herbs. Perfect for patios, court yards or small spaces.
This planter takes approximately 2 x bags of Tui Vegetable Mix 40L to fill. 
Benefits
Self watering container with extra large 12 litre water storage.
Extend the support frame as your plants grow to 1.4 metres.
Suitable for all vegetable types.
Made from recycled plastic (except side supports).
Directions for use
Directions for assembly:
Remove the black insert from the base of the container. Take out the three folded trellis sections, six risers and two side supports.
Re-fit the black insert into the container, taking care to align the raised insert with the holes in the side of the container.
Select which side of the container you want the trellis fitted. Insert two risers and the first trellis section.
For stability snap fit the side supports to each end, then fit into the keyhole shaped cut-outs on the top side of the container ends.
Add extra sections of trellis as your plants grow.
Directions for planting:
Water plants thoroughly before planting and allow to drain.
Fill your container with Tui Vegetable Mix up to three cm from the top.
Make a small hole for each plant.
Gently take the plant from the current container, loosen the root ball and remove any loose or dead plant material and roots.
Position the plant in the hole. Gently firm mix around the base of the plant. The mix should be at the same level on the plant as it was in the previous container.
Water plants well and ensure the reservoir is filled. Water regularly and top up the water reservoir as required.
Tui Mobile Vege Patch reviews
This would be ideal in the Retirement Village I live in. It would be great to be able to supply my neighbors with fresh vegetables.

Christine Osmers

Great for everything from tomatoes to beans and sweetpea. Anything hanging. Compact and easy to swap out to next crop. They make the perfect present as everybody has a ability to use it even the person that has everything.

Pam ATKINSON
Show more