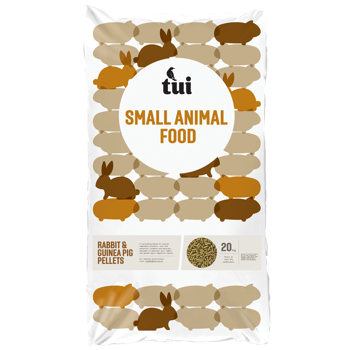 Tui Rabbit & Guinea Pig Pellets
Your treasured pets deserve the best. The Tui Small Animal Food range contains quality ingredients to provide your pets a nutritionally balanced diet.
Contains a nourishing blend of lucerne, vegetable proteins, oils and essential vitamins and minerals designed to maintain your rabbit and guinea pig's digestive health.
Added Vitamin-C specific for guinea pigs.
Directions for use
Feeding guide (100g = approx. ½ cup)
Adult Rabbits: feed approx. 25g per day for every 1kg of rabbit weight.
Adult Guinea Pigs: feed approx. 16g per day.
Please adjust serving sizes according to your rabbits or guinea pigs weight and age to ensure they remain at their ideal weight.
New foods should be introduced to your little friends diet gradually, as any sudden changes to their diet could upset their stomachs. If the new food causes diarrhoea, stop feeding it immediately.
For any further advice on caring for your little friend, contact your veterinarian.
To keep your little friends happy and healthy:
Always have fresh, good-quality hay and/or grass available, this should be the majority of their diet.
Add greens and vegetables to your rabbit or guinea pigs daily diet.
Supplement their diet with Value Rabbit & Guinea pig food as instructed in the feeding guide below.
Keep feeding dishes clean at all times and replace unused food daily.
Ensure fresh, clean drinking water is always available.
Tui Rabbit & Guinea Pig Pellets reviews
Be the first to write a review