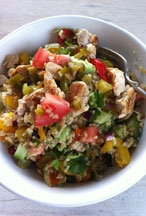 This recipe, from one of the Tui team members is a great way to use herbs and veggies from your garden to create a flavour-full salad, perfect for a summer's evening.
Ingredients:
1 capsicum
250 grams of bulgur wheat
600 grams of chicken
Juice of ½ a lemon
Olive oil
2 tomatoes diced
1 spring onion finely chopped
½ cucumber diced
1 avocado, diced
Large handful of coriander, chopped roughly
5 mint leaves chopped finely
½ C pitted olives, halved
½ block of feta crumbled
Jalapenos (optional garnish)
Salt and pepper to taste
Heat oven on bake to 180 degrees Celsius.
Place whole capsicum on an oven tray or baking dish into  the oven. Roast until the skin blackens, turning regularly to ensure it blackens evenly. This should take about 20 minutes.
Once blackened, remove the capsicum from oven, and place in a bowl covered in glad wrap, to sweat the capsicum.
Once the capsicum is cooled, peel the blackened skin off, remove the centre and slice up the flesh.
Dice tomatoes, cucumbers, avocado, feta, jalapenos. Finely chop spring onion, coriander and mint. Crumble feta and put to one side.
Cook the bulgur wheat (see instructions on the packet).
While the bulgur wheat is cooking, slice up the chicken and cook in olive oil in a hot frying pan. Squeeze the lemon juice over the chicken when it is nearly cooked, and then finish cooking.
In a serving bowl, combine all ingredients and add the olives, mixing to to ensure all the flavours are evenly distributed.
Season with salt and pepper.
Serve.