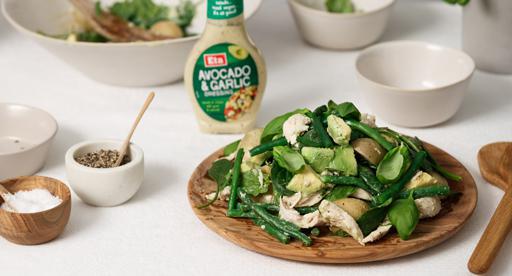 Boost your greens with this delicious summer salad, using fresh green beans and spinach leaves from the garden and topped with tasty avocado. This salad is simply delicious drizzled with Eta Avocado & Garlic Dressing.
Ingredients
500g baby potatoes
250g green beans
100g baby spinach leaves
2 cooked chicken breasts, shredded
1-2 avocados, diced
250mL bottle Eta Avocado & Garlic Dressing Mint
Basil to garnish
Prep time: 10 minutes
Cook time: 30 minutes
Gently boil the potatoes in salted water until tender, drain, slice in half and set aside.
Bring a pot of water to the boil and quickly blanch the beans. Plunge beans into cold water, drain, slice and set aside.
Into a large bowl add the spinach, potatoes, beans, chicken and avocados. Gently mix to combine.
Transfer to a serving platter or bowl.
Drizzle over approximately ¼ cup of Eta Avocado & Garlic Dressing.
Top with finely sliced mint and basil.
For more tasty recipe inspiration visit

Follow our guide to growing your own potatoes here