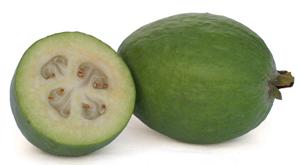 Ingredients
Feijoas (washed and halved)
Water
Sugar
2 lemons
Almost cover feijoas with water in a large pot. Simmer until fruit is soft. (about 10 minutes).
Drain off and reserve the liquid. Mash the fruit.
Strain fruit through muslin, dripping over a bowl overnight.
Measure the reserved liquid added to the liquid strained overnight.
Allow 3/4 cup of sugar for each cup of liquid.
Bring liquid to the boil, add sugar and the juice of 2 lemons.
Stir until sugar is dissolved.
Simmer until jelly forms on a cold plate.
Cool slightly. Pour into hot sterilized jars and seal.
Sent in by Janene Joll from Rotorua