People may ask, "Why would you make seed tape?" Garden to Table school Diamond Harbour School is going to tell you!
Tiny seeds, like carrot and radish seeds, are difficult to germinate in the soil. These seeds are so small that they dry out quickly once they have germinated, and they are difficult to sow evenly.
Lucky for you the children at Diamond Harbour School have a solution - homemade seed tape. Seed tape holds moisture around the seeds while they are germinating. It is also a great way to maintain an even distribution of seeds, avoiding unnecessary thinning of seedlings. Best of all seed tape can be made at home or school, using everyday materials.
Materials needed
Toilet paper
Small seeds like carrot, lettuce or radish
Flour and water
Paint brush
Cardboard or paper for labels
String
Scissors
Lollipop sticks
What you need to do
Cut some toilet paper to about 1 metre long. Then cut it in half long ways.
Mix the flour and water together in a bowl, until it makes a sticky paste. Make sure it is not super thick.
Dab small amount of flour paste in the middle of the paper. Use a lollipop stick to make sure the glue is placed evenly apart.
Get two seeds and carefully place them in the flour paste. Continue doing this until you reach the end of the toilet paper.
Fold the toilet paper in half lengthways to cover the seeds inside the paper.
Roll the finished seed tape up and tie together with a length of string.
Next make a label from scrap paper or cardboard, with the names of the seeds inside.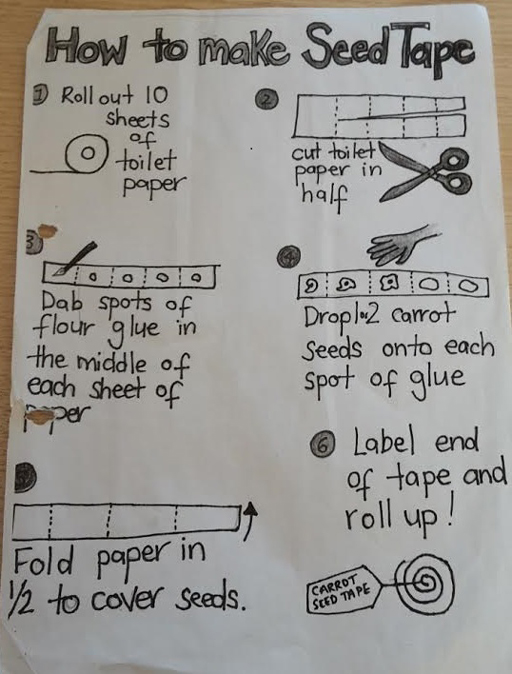 Tui & Garden to Table
We are excited to be supporting Garden To Table as our school programme again this year. Garden to Table is a trust, which runs a gardening and cooking programme in schools across New Zealand. As participants in the Garden to Table programme, seven to 10 year-old children spend time in a productive vege garden and home-style kitchen each week. There they learn skills that will last them a lifetime, and discover just how much fun it is to grow and cook their own seasonal vegetables and fruits.
Tui is providing starter packs to each of the new schools, and seasonal packs during the year.
When should I plant
in
Jan
Feb
Mar
Apr
May
Jun
Jul
Aug
Sep
Oct
Nov
Dec
Harvest in

50-65

days