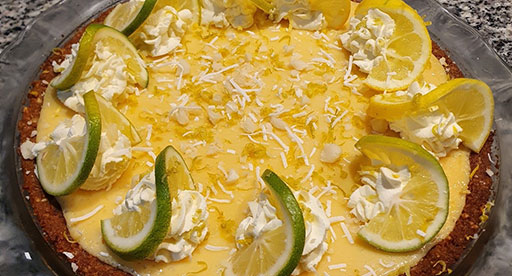 Do you have a whole lotta limes? Make use of your fresh harvests with Lianne's Lime Pie! With a macadamia and digestive crust, filled to the brim with a tart yet sweet filling, it will be a hit with the whole family.  
Ingredients:
Crust
140g digestive biscuits
1/2 cup macadamia nuts - raw, roasted or salted
1 tablespoon caster sugar
5 tablespoons (72g) butter, melted
Filling
2 x 395g cans of classic sweetened condensed milk
1 cup (240ml) of freshly squeezed lime juice
4 large egg yolks
Garnish
Lime zest, lime slices, macadamia nuts, shredded coconut, whipped cream
Method
1. Preheat oven to 180º C.
To make the crust:
2. Use a food processor to pulse the macadamia nuts until coarsely chopped, add digestive biscuits, pulse together into crumbs.
3. Add melted butter and sugar, mix until combined and crumbly.
4. Press tightly into the bottom and up the sides of a 23cm pie dish.
5. Pre-bake crust for 8-10 minutes. Don't be tempted to cook longer as the base will end up overcooked. Leave the oven on.
To make the filling:
6. Whisk the condensed milk, lime juice and egg yolks together, this can be done using an electric mixer. When combined, pour into the warm pie crust.
7. Bake the pie for 15-20 minutes. The pie should be firm but slightly wobbly in the centre.
8. Remove from the oven and allow to cool on a wire rack.
9. Once cool, cover and chill for at least 1 hour before serving.
10. Garnish with lime zest, lime slices, cream, chopped macadamia nuts.
Note: Store leftovers in the fridge for up to one week.