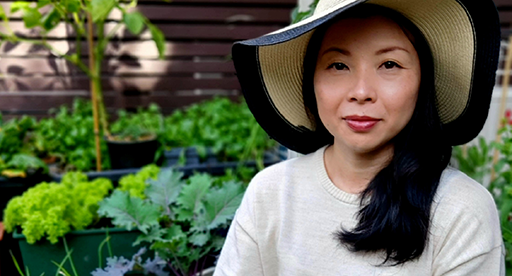 My garden was started because I wanted to bring greenery and life into an otherwise empty wooden patio. 
By Caitlin: A city girl dreaming of the country 
Garden size: 3.5m x 1.8m (6.3m2)
Location: Auckland
Follow me: @my_concrete_garden
I started with four basic plastic storage boxes placed on top of benches that my super handy partner built for me. Since then, I have added more individual pots to the garden and it's looking more like the cottage style garden I have always wanted.
My small garden layout is dictated by the fact that I have no access to bare land and there are some seasonal challenges. In summer the wooden decking retains heat and gets very hot. In winter the sunniest spot can get as little as three hours of sun per day. A container garden lets me position my plants to minimise the impact of seasonal changes. My garden is mainly made up of productive edible plants, but I also grow flowers for the local insect life. The confines of my small patio means that there is limited space and every plant is selected to be high yield or suitable for container life.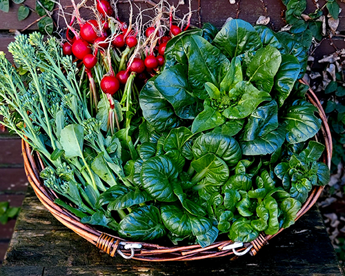 There are many dwarf or compact varieties of plants, it just takes a bit of planning and out of the box thinking to adapt these plants to a container garden. This spring I'm trying some small watermelons (Sugar Baby and Golden Nugget), dwarf sugar snap peas and will be experimenting with growing Caigua (a small gherkin-type fruit). I'm also really excited to plant more flowers like nigella, calendula and chamomile! My garden is my little creative outlet space and I love to push the boundaries of what and how plants can be grown in a tiny garden.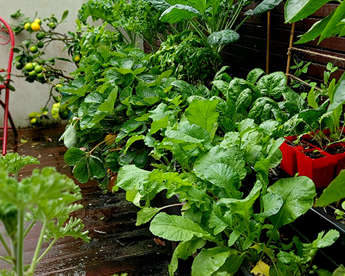 TOP 5 SMALL SPACE CROPS
Dwarf tomatoes: most tomato varieties can grow very tall and are space intensive. Smaller dwarf tomatoes can be grown closer together, mature faster and are very heavy croppers. I'm growing three different varieties of dwarf tomatoes this year.
Strawberries: they are the poster child for summer container gardens! They're super sweet and delicious, and their compact characteristics means you can grow them in small troughs, pots and even vertically.
Mint: this is a favourite in my household because it grows almost year round and it's so versatile. Mint can be made into tea, added to Asian salads or refreshing summer cocktails.
Dwarf beans: these are the compact version of their very tall climbing counterparts and have a bushy growth habit, so no trellis needed. They're also very good producers!
Radish: the fastest growing crop for the impatient gardener! It's a great space and time filler crop to plant while you wait for slower growing crops to germinate - like garlic.