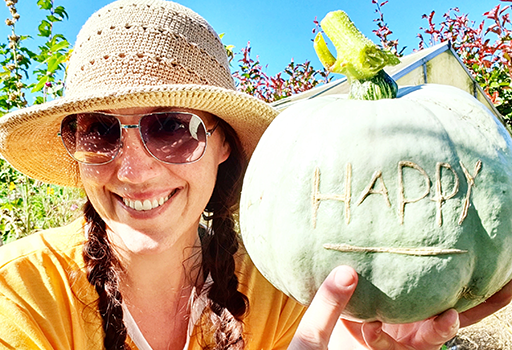 Hi, I'm Candy! (Aka @nzgardener) Located in North Canterbury. A passion to provide fresh organic produce to feed my family was what got me into growing. That, and the physical and mental health aspects have kept me gardening. Now my kids are joining me in the garden creating their own patches and will happily try eating anything we produce.
We're currently building an underground glass house that I'm hoping will provide more year-round warm weather crops. It's giving me lots of challenges and problems to solve but I'm loving it and excited to try growing peanuts, mini bananas and all kinds of melons.
From a city garden where I grew in my driveway, to where I am currently in my ever-expanding veggie patch in a paddock, I'm always learning, always excited to try new things, and always happy to help get others growing. Sprinkle some seeds for the bees, plant a tree for the future, and enjoy giving and receiving from nature.
Our favourite family treat. This year we aim to produce more than the 26kg from last season. After lifting and soaking in seaweed overnight in the winter and replanting out with some pine mulch, I'm very hopeful we will be supplying our year-long smoothies.
Knowing there's always a carrot ready to snack on in the garden is a happy feeling. I usually sow 3 times a year in spring, summer, and autumn. I mix half a handful of sand with my seeds before sprinkling out, watering in, and covering for approx. 8-10 days with cardboard or shade cloth to keep them moist. I've had 99% success with seeding carrots this way.
Sprinkled like confetti throughout my garden, they're easy to put in most meals, and the rainbow varieties add a nice pop of colour in the veggie patch. Let it go to seed and you'll never want for silverbeet again.
It's time to think about preparing! Clearing weeds and grass where you will be planting, and prep the planting hole with some kitchen scraps and compost. We love to etch names and messages on our pumpkins when they are forming, a bit of fun for young and old.
I tend to plant my beetroot where I know it will get part shade over summer. I juice a lot of my beetroot, but it is amazing how versatile beetroot is and can go in dishes from sweet to savoury. If you haven't tried it, do! Fresh beetroot is nothing like the tinned beetroot.
You can follow me on my garden journey here.