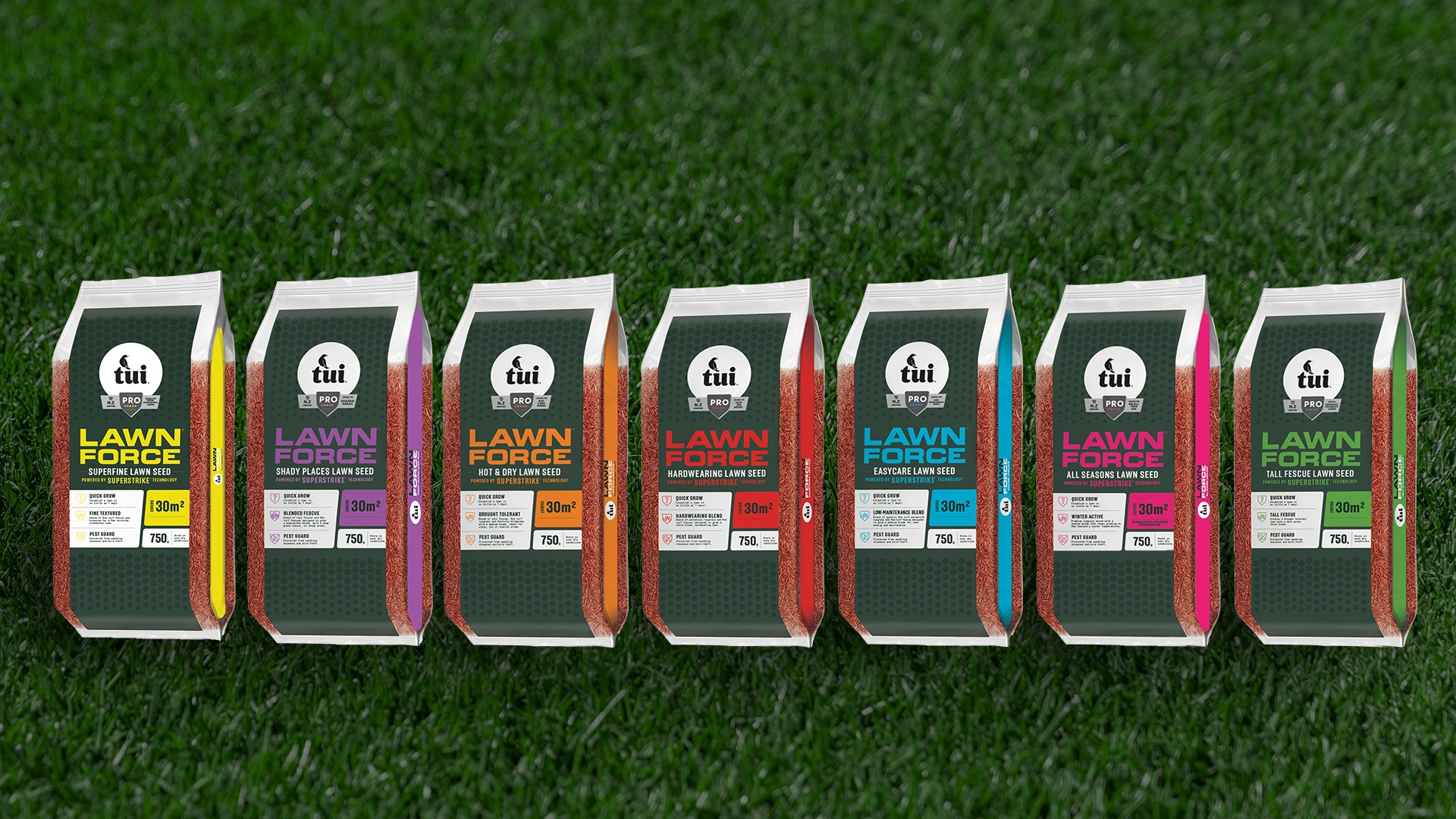 When choosing a lawn seed it's a good idea to think about the look you would like to achieve and the way your lawn is used.
The Tui LawnForce® Superstrike® Lawn Seed range offers a variety of lawn seeds to suit your garden and a unique treatment for fast establishment. Discover the benefits below. 
Key benefits
Tui LawnForce® Superstrike® Lawn Seed varieties feature a unique treatment which encourages fast establishment of lawn seed, so you can see results in as little as seven days*.
This industry leading treatment also protects the seed from common fungal diseases during establishment and reduces bird theft. It includes an additive which effectively binds the treatment to the seed, minimising dust.
*Seeds will germinate in 7 days in ideal weather and soil conditions and when the correct steps are followed. In non-ideal conditions, germination may take longer.
The seed is also protected against insects, fungal diseases and bird theft.
Choose the right Tui LawnForce® Superstrike® Lawn Seed for your backyard based on location, use and climatic conditions. Whether you require a low maintenance lawn, a hardwearing lawn for high traffic areas, a fine textured, ornamental lawn, a drought tolerant lawn for sandy soils, or a lawn in a shady spot.

Tui LawnForce® Superstrike Lawn Seed range
Pick your perfect seed with our new virtual reality tool!
5 steps to lawn success
Autumn and spring are the best times for lawn care.
Clear away existing grass and weeds, then apply a layer of Tui LawnForce® Lawn Preparation Mix.
Choose a lawn seed suited to your climate and lawn use.
Sow seed on a fine day, rake gently to cover seed and water lightly.
Feed your lawn in spring and autumn with a specialised lawn fertiliser.
Discover more lawn advice with the Tui LawnForce® Hub