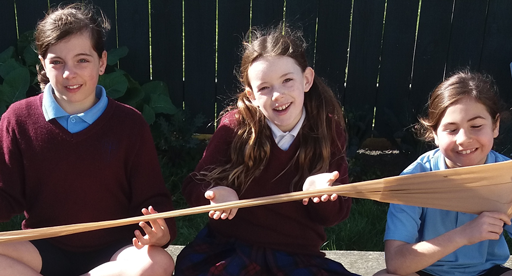 We love a great recycling idea and this one from Garden to Table school Holy Cross is a must-try! Supporting tall growing plants can be challenge. Instead of using harsh twine, the students show us how to simply reuse old, laddered pantyhose - gentle way to support plants
What you will need
1 pair of scissors
1 pair of clean old pair of pantyhose
Method
Cut the top part off the clean old pantyhose (the pant area, usually this is a different colour than legs).
Then using the legs of the pantyhose, we cut across 3cm wide, making small rings.
Tie the rings together to make a chain whatever length you need.
How to use
Use the chain to support your plants. By securing the chain to a stake, fence or other sturdy object, then wrapping the chain around the plant and securing on the other side.
The small 3cm chains can be used singularly to tie a little plant to a stake
The "pants" of the pantyhose can be stretched around four sticks to protect a plant.
Tui & Garden to Table
We are excited to be supporting Garden To Table as our school programme again this year. Garden to Table is a trust, which runs a gardening and cooking programme in schools across New Zealand. As participants in the Garden to Table programme, seven to 10 year-old children spend time in a productive vege garden and home-style kitchen each week. There they learn skills that will last them a lifetime, and discover just how much fun it is to grow and cook their own seasonal vegetables and fruits.
Tui is providing starter packs to each of the new schools, and seasonal packs during the year.