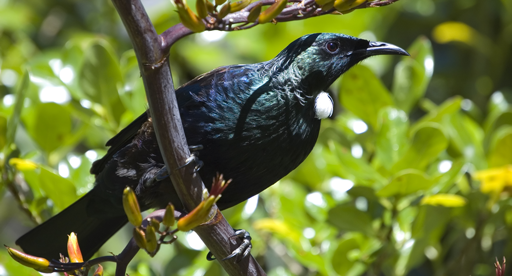 In addition to setting up bird feeding stations of seed and water in your garden, you can also help entice beautiful birds into your backyard by planting trees and shrubs that flower, seed and form berries.
Planting a variety of trees and shrubs that flower, seed and form berries will help attract birds to the garden. The bigger variety of plants you add to your garden the more variety of birds you will attract.
Not only these plants look attractive in your backyard they also provide food and shelter for wild birds.
Over the winter months when food is most scarce for birds, a garden with a good supply of winter flowers and berries will attract our feathered friends. Tui, bellbird and kereru are known to travel large distances in search of flowers and fruit.
Natives to plant to attract nectar feeders
Nectar feeding birds include tui and bellbirds and waxeyes. The below plants will help attract these birds into your garden.
Kowhai, phormium (harakeke flax), cabbage tree, pohutukawa, rata, rewarewa, puriri, tree fuchsia, pittosporum.
Natives to plant for seed and fruit feeders
Coprosma, psuedopanax (five finger), tree fuchsia, kahikatea, miro, matai, nikau (mature), puriri, taraire, tawa, titoki, makomako (wineberry), kawakawa, matapou, pittosporum, totara.
Exotic trees to plant for birds
Red flowering gum (eucalyptus), red hot poker, flame tree, bottle brush, aloes, protea, viburnum, grevillea.
Not all plants will grow in every part of the country. It is easier to grow species native to your region, so check with your local garden centre. Otherwise check that the plant will tolerate your climatic conditions which might include humidity, frost, salt spray or drought. Some plants, such as tree fuchsia and coprosma are better planted in multiples so that they fruit.
Nectar feeders, especially tui, love the Taiwan Cherry (Prunus campanulata), however this tree is considered invasive as seeds germinate so readily and are spread far and wide by birds. Planting is banned in Northland and it is considered a 'garden escapee' in other regions. Alternatives to plant are puriri, makomako and native fuchsia.
If berries are not available, birds will eat the leaves and shoots of tree lucerne, broom, kowhai, poplar and willow.
Fruit such as orange, mandarin, grapefruit, apple and pear will attract birds like waxeyes and tui. Doing this encourages birds to feed on your fruit trees, so don't put fruit out that you harvest from your own fruit trees. Avoid putting kiwifruit out for birds as they spread the seeds and it has become a plant pest in some regions. There is also the risk of spreading PSA.
Sugar solution is good when nectar is in short supply, mix 100g of sugar to one litre of warm water and place in a nectar feeder in a tree visited by tui and bell birds. At this dilution rate bees and wasps should be deterred from visiting the feeder.
Directions for planting trees or shrubs in your garden:
Once you have selected the type of plant you would like to plant in your garden to attract birds, it's time to get planting!
Soak your tree or shrub in a Tui Organic Seaweed Plant Tonic bucket of to help prevent transplant shock. As a seaweed based plant tonic it encourages healthy growth, prevents transplant shock, and protects plants against extremes in temperatures.
Dig a hole approximately twice the depth and width of the root ball of your plant and partly fill with Tui Garden Mix. This has all of the essential nutrients your plants need to get off to the best start.
Place the tree in the hole, and fill in with Tui Garden Mix, ensuring the tree is no deeper than it was in the container or bag.
Water your tree well after planting.
Read our wild bird guide here