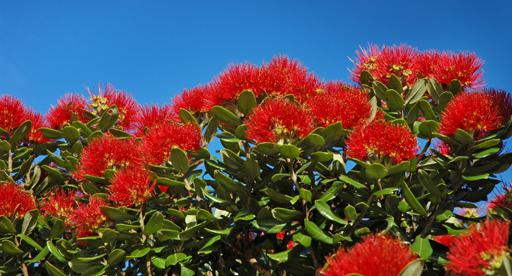 In addition to setting up bird feeding stations of seed and water in your garden, you can also help entice beautiful birds into your backyard by planting varieties of native and exotic plants.
Planting native plants in your garden will help attract native birds. There are also exotic trees and shrubs you can plant which attract birds, including our native birds. The bigger variety of plants you add to your garden the more variety of birds you will attract.
Not only do New Zealand native trees, shrubs, climbers and exotic trees look attractive in your backyard they also provide food and shelter for wild birds.
Over the winter months when food is most scarce for birds, a garden with a good supply of winter flowers and berries will attract our feathered friends. Tui, bellbird and kereru are known to travel large distances in search of flowers and fruit.
Birds such as fantails and silvereyes commonly build nests in the branches of tall shrubs, so they are out of reach of predators.
Planting for the birds
If you are considering planting a bird-friendly garden, kowhai - a winter-flowering tree is a firm favourite with tui and bellbirds.
Other popular native options include: puriri, New Zealand fuchsia, harakeke flax, corokia, wineberry and pohutukawa.
Protea, viburnum, red flowering gum, and pyracantha are exotic plants that provide birds with food over the cooler months.
Note: Not all plants will grow in every part of the country. It is easier to grow species native to your region, so check with your local garden centre. Otherwise check that the plant will tolerate your climatic conditions which might include humidity, frost, salt spray or drought.
Directions for planting trees or shrubs in your garden:
Once you have selected the type of plant you would like to plant in your garden to attract birds, it's time to get planting!
Soak your tree or shrub in a Tui Organic Seaweed Plant Tonic bucket of to help prevent transplant shock. Tui Organic Seaweed Plant Tonic is a seaweed based plant tonic that works absolute wonders in the garden, encouraging health growth, preventing transplant shock, and protecting plants against extremes in temperatures.
Dig a hole approximately twice the depth and width of the root ball of your plant and partly fill with Tui Garden Mix. This has all of the essential nutrients your trees need to get off to the best start.
Place the tree in the hole, and fill in with Tui Garden Mix, ensuring the tree is no deeper than it was in the container or bag.
Water your tree after planting.
Read our wild bird guide here