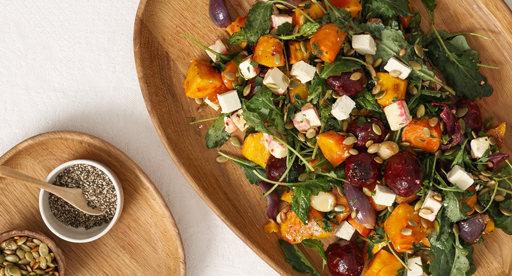 This tasty roast vegetable salad topped off with Eta Caramelised Onion Dressing is the perfect partner for any BBQ.
Ingredients
2 red onions, peeled and quartered
200g pumpkin, skin and seeds removed and cubed
3 medium carrots, peeled and cut into 3cm chunks
1 head of garlic
3 Tbsp extra virgin olive oil
70g pumpkin seeds
100g baby kale
400g pouch prepared beetroot
250g goats' feta, cubed
250mL bottle Eta Caramelised Onion Dressing
Chopped Italian parsley for garnish
Prep time: 30 minutes
Cook time: 40 minutes
Preheat oven to 180°C fanbake.
Place the onions, pumpkin, carrots and garlic into a large roasting pan.
Toss the vegetables in 2 Tbsp of olive oil, season with salt and pepper and roast for about 40 minutes or until cooked.
Heat a fry pan and add 1 Tbsp olive oil, add the pumpkin seeds and toast lightly.
Place into a bowl and set aside.
In a large mixing bowl place the cooked vegetables, squeeze out the cooked garlic cloves, add kale, beetroot and feta.
Transfer to a serving platter.
Drizzle with approximately ¼ cup of Eta Caramelised Onion Dressing.
Garnish with parsley and pumpkin seeds.
For more tasty recipe inspiration visit