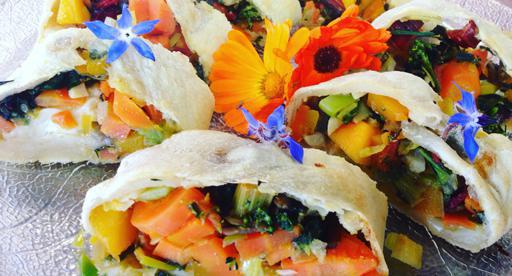 Is your garden bursting with delicious veges? Combine them to make tasty vegetable strudel! Shared by Te Huruhi School, this strudel can be enjoyed on its own or served as a side dish with your favourite chicken, fish, beef or duck.
Ingredients
Strudel dough:
370g white flour
150ml warm
Water
50ml sunflower oil
1 teaspoon salt
1 tablespoon white wine vinegar
Vegetable filling:
250g kumara
200g carrots
1 fennel bulb
1 medium beetroot
Large bunch of silverbeet, washed chopped
Finely chopped herbs, parsley, thyme, oregano.
Salt and pepper
50g melted butter
Flour for dusting
Strudel dough
Place all ingredients in food processor and mix until combined and soft. rest under a tea towel for 10 min.
Vegetable filling:
Wash and peel vegetables. Shave one half and dice the other half of the vegetables.
Blanch in salted water 2-3 min.
Drain and place on kitchen paper allow to cool.
Preheat oven 180 C, prepare oven tray lined with baking paper.
Meanwhile dust surface with flour and roll/stretch strudel dough into a rectangle shape, place stretched dough on tea towel.
Scatter vegetables over the pastry and keep 3cm free around the edges.
Place chopped herb on top of vegetables and season to taste.
Using a pastry brush, brush the melted butter around the edges, now start rolling the strudel together using only the tea towel. Make sure the strudel sits on the overlap.
Place vege strudel on lined baking tray brush again with melted butter and bake in the oven for 15 min until golden brown.
To serve: cut strudel with serrated knife into 4-6 portions. Enjoy!