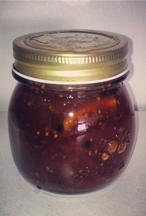 Enjoy your summer harvest of tomatoes well into the winter months with this tangy tomato chutney.
Ingredients:
1.3kg fresh tomatoes
4 limes, quartered lengthwise
2 large onions, peeled and roughly chopped
450g brown sugar
750ml cider vinegar
6 fresh chillies, deseeded and chopped
1 tablespoon ground ginger
1 teaspoon salt
1 teaspoon black peppercorns
To skin tomatoes: cut a cross in the top of each, place in a bowl and pour boiling water on them. Leave for a few minutes until skins start to split, then strain and plunge into cold water. Slip the skins off.
Roughly chop tomatoes and place in a large, wide saucepan or preserving pan.
Cut the lime quarters crosswise into slices, then add to the pan with the remaining ingredients.
Bring to the boil slowly, then reduce heat.
Simmer for 2-3 hours, stirring occasionally, until fruits are tender and chutney is thick.
Put chutney in warm steralised jars and seal. Store in a cool place.
Makes 3 x 500g jars.
Recipe from The Tui NZ Fruit Garden book