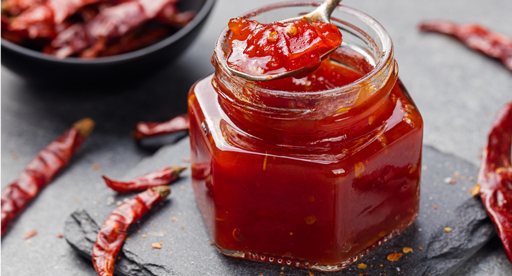 Crazy about chillies! They are easy to grow, add a punch to an endless variety of dishes, and are perfectly paired with tasty tomatoes. Try Andre's recipe that combines these two flavoursome autumn harvests into a delicious jam.
Ingredients
500g tomatoes
2 red chillies (if you prefer less heat, remove the seeds)
4 garlic cloves
1 thumb ginger
30ml fish sauce
300g caster sugar
100ml red wine vinegar
A drop of tomato paste
Skin and blend half the tomatoes, the chillies, ginger and garlic to a fine puree.
Add to a pot and heat.
Add the sugar stirring all the time.
Add the rest of the tomatoes diced into small cubes, and fish sauce and vinegar.
Add a drop of tomato paste to give more colour and flavour.
Simmer for about 45 mins until thick and jam-like.
Tip: You can keep chillies in the freezer and chop from frozen.