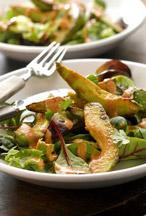 This little beauty of a salad is courtesy of our friends at www.fresh.co.nz. A delicious and simple way to use in-season avocados and asparagus, combined with fresh herbs from your garden.
Ingredients
3 bunches of asparagus (approx 1 kg)
2 medium avocados
130 g baby spinach leaves (approx)
Juice and zest of 1 lemon
2 tbsp of olive oil
2 tbsp of fresh parsley, chopped
1 tbsp of fresh coriander, chopped
1 tbsp of white wine vinegar
½ tbsp of balsamic vinegar
1 tsp of caster sugar
1 tsp of fresh mint
2 tbsp slivered almonds
Salt and pepper to taste
Snap off the tough ends of the asparagus and discard.
Steam asparagus until just tender and bright green.
Plunge the asparagus into cold water to halt the cooking time and drain well.
Set aside.
Peel the avocados then dice the flesh.
Toss with the lemon juice and lemon zest, then add to the asparagus.
Combine in large bowl with baby spinach.
Dressing
Whisk together the white wine vinegar, balsamic vinegar, olive oil, caster sugar, mint and parsley.
Add salt and pepper to taste.
Sprinkle over the slivered almonds.
Pour over the salad and toss lightly.
Courtesy of www.fresh.co.nz