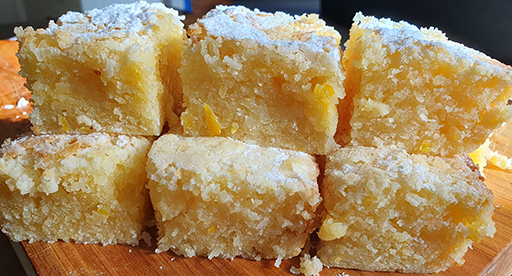 If you're wondering what to do with all the extra lemons in your backyard, Christine has shared her delicious lemon brownie recipe. Combining both the rind and the juice, it's sure to be a hit with the whole family.
Ingredients:
Brownie:
1 ½ cups flour
1 ½ cups sugar
250g butter
4 eggs
2 tablespoons lemon rind
¼ cup lemon juice
To serve:
Icing sugar or Greek yoghurt
Method
Preheat oven to 180 degrees.
Beat flour, half of the sugar and butter together until well combined.
In a separate bowl whisk eggs, lemon juice, lemon rind and the remaining sugar together.
Then pour the egg mixture into the flour mixture and beat on a medium speed until smooth (don't panic if it looks curdled, it will come together with mixing).
Pour the mixture into a lined oven 20cm x 30cm tin.
Bake for 25 minutes or until golden and just firm to touch.
Allow to cool before removing from tin, serve with a dusting of icing sugar or Greek yoghurt and enjoy!