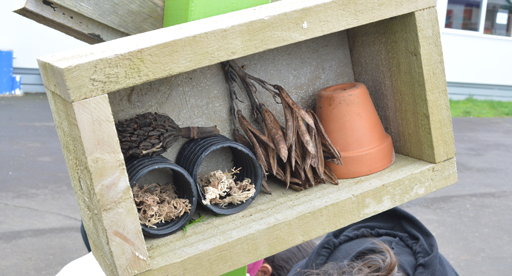 Garden to Table school Edendale Primary have been creating a habitat for beneficial bugs by building a bug house. They hope to attract more ladybugs, solitary bees and hoverflies to help pollinate their fruit and vegetables!
Here at Edendale Primary we have been creating a Habitat for Beneficial Bugs. We are hoping to attract more ladybugs, solitary bees, and hoverflies to our garden. These bugs will help to pollinate our fruit and vegetables and maybe eat some of our pest insects. We are striving for a balance.
We have plenty of flowers and plants growing already to entice them in. But, our beneficials need a place to shelter, hide and lay their eggs. Some bugs also need a place to hibernate during winter. Enter the Edendale Bug Hotel!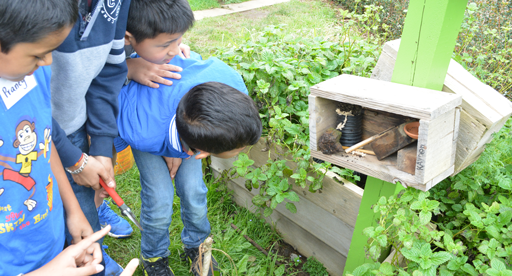 Here is how we did it:
We found some old posts around the school and painted them green.
The posts were then bolted to some of our garden beds.
Untreated pellets were cut by our caretaker for the timber.
For each hotel room we used: 3 pieces of timber 15cm x 35cm, 2 pieces of timber 12cm x 15cm, 12 short screws and one long screw to attach to the post.
The Hotel Rooms were screwed together and then attached to the posts.
The students were then given the task of finding things in nature either from home or from around the school, that they thought, would create the ideal habitat for a bug. Materials included pine cones, pices of pipe, terracotta pots and tree branches.
The students did a fantastic job and had lots of fun!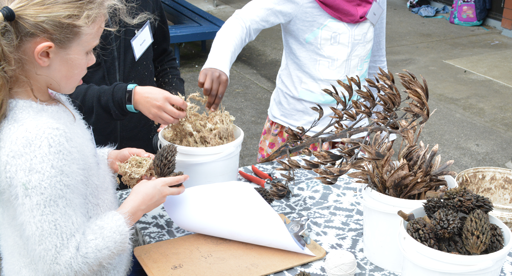 Tui & Garden to Table
We are excited to be supporting Garden To Table as our school programme again this year. Garden to Table is a trust, which runs a gardening and cooking programme in schools across New Zealand. As participants in the Garden to Table programme, seven to 10 year-old children spend time in a productive vege garden and home-style kitchen each week. There they learn skills that will last them a lifetime, and discover just how much fun it is to grow and cook their own seasonal vegetables and fruits.
Tui is providing starter packs to each of the new schools, and seasonal packs during the year.