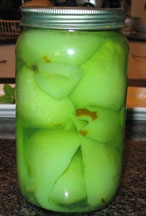 This recipe for minted pears was shared by David from Auckland in our recipe competition.
Ingredients
Pears
Sugar
Water
Creme D'Menthe Liquor
Ice cream and chocolate sauce to serve
Preserving jars
Leaving the stem on , peel, half and core the pears cutting the stem in half lengthwise.
Make a light sugar syrup by bringing 1 part sugar to 1 part water to the boil, then reducing the heat and stirring until sugar is completely dissolved (approx 5 minutes).
Add some Creme D'Menthe liquour to it. You can add as much as you wish but I use about 1/4 cup to a litre of syrup.
Poach pear halves gently in the liquid.
Fill sterile hot jars and lid tightly with seal.
Leave for 3 to 4 weeks and pears will absorb all colour from the cooking liquor.
Alternatively if you have a preserver, pack the pears into the hot sterile jars, top with liquor and cook for 6 to 8 minutes in water bath.
Serve with Chocolate Sauce and ice-cream or just chocolate ice-cream and a wafer.