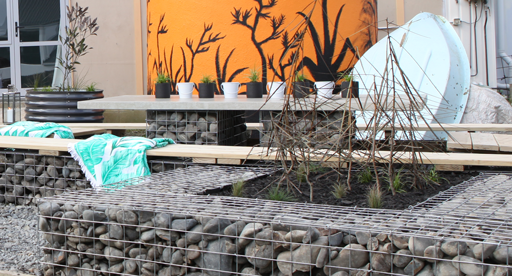 With the entertaining season on its way it's the perfect time to plant up your entertaining space! Use plants as accessories to compliment your outdoor area - fill planters with greenery or choose some of your favourite edibles for food at your fingertips!
Prepare
Great options for a touch of green:
Lancewoods
Buchananii
Comans bronze
Secta
Testacea
Trifida
Virgate
Festuca - Banks Peninsula blue
Uncinia red
Excellent edible options:
Salad greens for fresh summer salads: mesclun, spinach, lettuce, rocket. Pick leaves as you need and they will grow back.
Dwarf fruit trees for summer snacking: apple, pear, cherry, nectarine, peach, apricot and citrus including lemon, lime and mandarin.
Herbs for vibrant summer drinks and salads: basil, coriander, mint and pineapple sage.
Vegetables for your fave summer BBQ dishes: tomatoes, potatoes and cucumbers.
You can also plant flowers for the bees! Plant a variety of bee friendly flowers for added interest and a pop of colour.
PLANT
The best times to plant are early in the morning or late in the day, so the plants aren't exposed to the hot sun straight away.
Select pots and containers for your chosen plants based on the look you would like to achieve. Great options include: concrete planters, corrugated pots, troughs, wine barrels, and Gabion planters. Caster trollies are perfect if you would like the plants to be movable and used as space dividers.
Directions for planting in pots and containers:
Before potting, soak plants in a bucket of Tui Organic Seaweed Plant Tonic and allow to drain. This will help prevent transplant shock.
Partly fill your container with Tui Pot Power.
Gently loosen the root ball and position the plant in the centre of the container. If planting multiple plants, space accordingly in the container.
Fill your container with Tui Pot Power up to 3cm from the top.
Press soil gently around base of plant.
Water your plants well.
NOURISH
Feed your plants and they will reward you. Plants use nutrients from the soil as they grow, so replenishing the nutrients ensures your plants remain healthy. Tui NovaTec Premium fertiliser is an all purpose controlled release fertiliser for potted plants. Well watered, well nourished plants will have a better chance of keeping insect pests and diseases at bay.
Keep in mind plants grown in containers dry out quicker than in garden beds so regular watering is needed. It is best to water deeply twice a week rather than a little each day to encourage deep roots. Water in the morning or evening to avoid water evaporation.
Tui Tip:
A summer drinks garden is the perfect accessory for your entertaining space. Fill a half wine barrel with Tui Pot Power and plant a citrus tree in the middle surrounded by herbs for a delicious finishing touch to your favourite drinks.