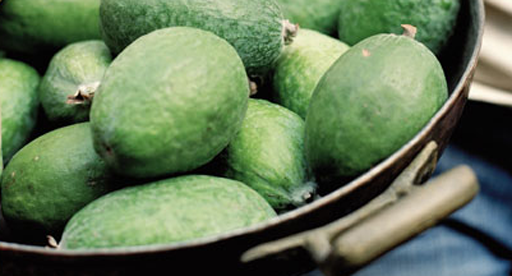 A wide range of feijoas are available. Some varieties are self-fertile, but even self-fertile varieties will produce heavier and more regular crops if they are pollinated by other varieties. Plant at least two different varieties to extend your season and ensure a better harvest.
When should I plant
in
Jan
Feb
Mar
Apr
May
Jun
Jul
Aug
Sep
Oct
Nov
Dec
Harvest in

2-3

years
FEIJOA VARIETIES
Anatoki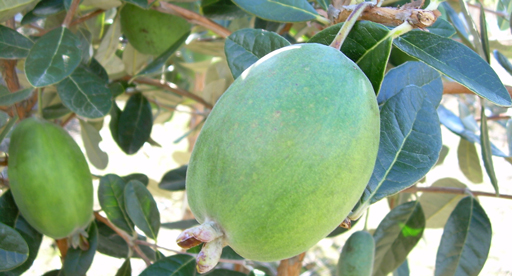 An early season variety with lush dark green leaves on a very attractive plant. It produces exceptionally sweet round fruit. Needs a pollinator. The tree is quite vigorous, with large deep green foliage.
Apollo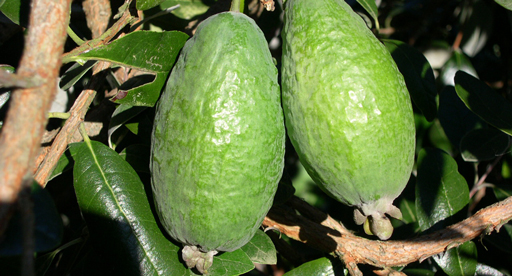 A vigorous and productive variety that produces a medium to large oval fruit with smooth, thin, light green skin. Ripens mid to late season. Flavour very pleasant, quality excellent. This is an upright, spreading tree that will grow up to 2.5 metres tall. Semi self-fertile.
Bambina
A relatively new dwarf variety, with thin edible skin surrounding sweet aromatic pulp bursting with flavour. Bambina is a good choice when planting in a pot. Self-fertile.
Kaiteri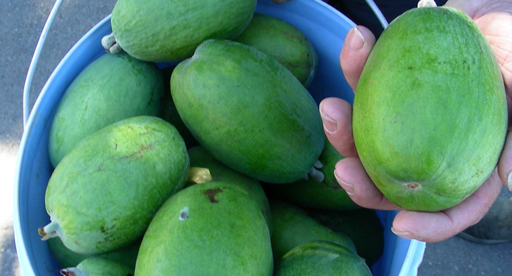 Kaiteri is a quick-growing feijoa that produces an early crop of large, super sweet fruit. Needs a pollinator. The tree is reasonably vigorous, upright with large rounded leaves.
Kakariki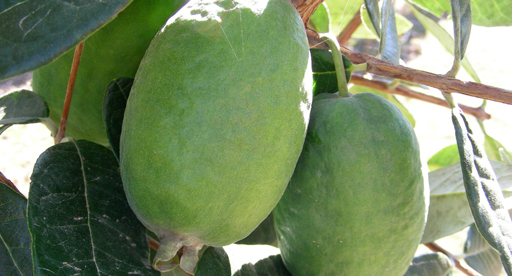 Named after the Maori word for the colour green, this very early season variety produces sweet large fruit. Needs a pollinator.
Mammoth
Produces large, soft, round to oval fruit, with thick, somewhat wrinkled skin. The flesh is slightly gritty, and the quality and flavour are very good. A strong growing tree of upright habit, it will grow up to 3 metres tall. Bears larger fruit with a pollinator (Triumph is a good option).
Triumph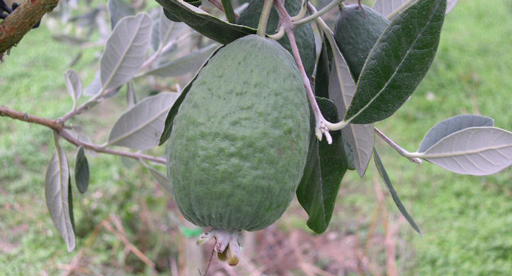 Produces medium to large sized oval fruits with firm skin, juicy and moderately soft flesh and an excellent sharp flavour. Flesh somewhat gritty but with good seed-to-pulp ratio. Ripens late in the season. Good pollinator for Mammoth. Needs a pollinator.
Unique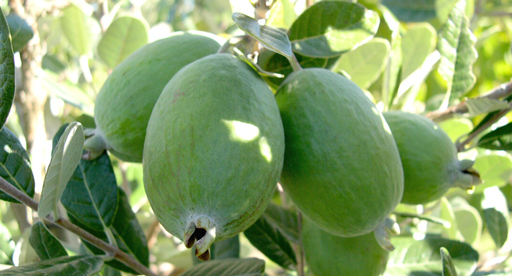 An early season, prolific bearer of fruit from a young age. This variety produces medium sized fruit with smooth, soft, and juicy flesh. A truly self-fertile variety.
Wiki™ Tu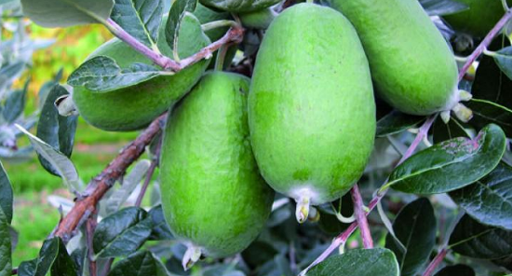 Producing huge fruit on a dwarf growing (2.5m), Wiki™ Tu is an easily managed, slow growing tree. The sweet and meaty fruit has a firm texture and good keeping qualities. A mid-late season fruiting variety, it is partially self fertile, though is best with another variety nearby for cross pollination.
Opal Star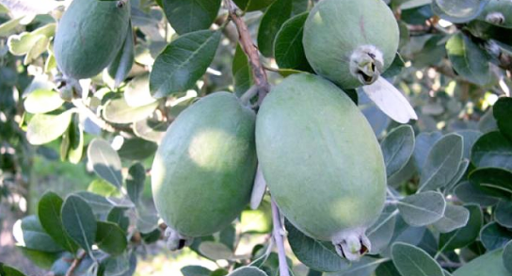 A late season variety with smooth dark skin and a lovely rich and aromatic flavour. Opal Star is a compact, slow growing plant that has bushy habit making it an ideal variety for home gardens, especially for hedging. 
Top Tips
Later ripening varieties include Opal Star, Wiki™ Tu and Triumph.
For hedging Anatoki, Apollo, Kaiteri, Kakariki, Mammoth, Triumph and Unique are all great options. We would suggest planting a mixture of varieties to provide cross pollination with each other, and to spread the harvest season with early, mid and late ripening varieties.
If you're looking for a smaller tree, Wiki Tu is a great smaller growing tree (with big fruit), however any variety can be pruned hard to keep the size constrained.
Find out how to grow your own feijoas here!
Photo credit - feijoa variety images: Waimea Nurseries.