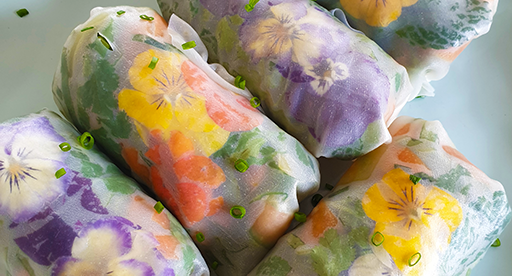 Enjoy a tatse of summer with Kates summer rice paper rolls! These delicious, fresh rice paper rolls are packed with healthy veges from the garden and served with a tasty peanut dipping sauce. 
You can even add a few edible flowers for a beautiful touch.
ingredients 
Rice Paper Rolls:
1 packet of rice paper 
10 large pak choy leaves (could use spinach or bok choy)
1 tablespoon sesame oil
Handful edible flowers
Handful fresh coriander (or parsley)
One jar quick pickle
Quick Pickle:
250ml vinegar
Half a cucumber
2 carrots
4 radish
1 tablespoon caster sugar
1 tablespoon mustard seeds
Handful fresh dill
Peanut Dipping Sauce:
1 brown onion
1 clove garlic
2 tablespoons peanut butter (crunchy or smooth)
1/2 cup coconut milk
2 teaspoon chilli flakes (optional)
1 tablespoon soy sauce
Method 
Quick Pickle: (Prepare and refrigerate 3-4 hours prior. Even better if left overnight)
Using a peeler, peel the cucumber, carrots and radish into thin strips. You're wanting each strip to be no bigger than your index finger. Turning your veg as you go creates angles and smaller strips.
In a jar, add the vinegar, caster sugar, mustard seeds and dill. Put the lid on and give a good shake.
Add all of the vege strips to the jar and refrigerate.
Rice Paper Rolls:
Roll your pak choy leaves tightly, cut into thin strips and add to a bowl with the sesame oil.
Grab a large plate or shalllow dish and add enough water to cover one rice paper.
Submerge one rice paper at a time, making sure the whole paper is under water. Once it's gone silky remove from the water and lay flat on a chopping board.
Add your edible flowers (face down) then some coriander leaves around the edges of your flowers.
Add a table spoon of your 'Quick Pickle' (try not to get the juice) over the top of the flowers and herbs, then top with a good handful of pak choy.
Fold the top, bottom and one side over, then tightly roll the whole rice paper roll over the remaining side to create a little parcel.
Peanut Nam Jim Dipping Sauce:
Finely chop the onion and garlic.
Brown the onion in a saucepan. Add garlic, chilli flakes, soy sauce and peanut butter to the pan and mix utill combined.
Take off the heat and mix in the coconut milk.
Put back on the heat and stir until thickened.
Serve rice paper rolls with the peanut nam jim dipping sauce and enjoy! Thanks to @hi_its_kateparker for the recipe. 
Note: Rice paper rolls are so versatile so they will work with any fresh veges or herbs that you like. You could also add vermicelli noodles or your choice of meat.