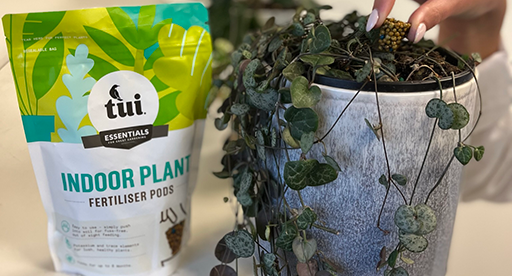 Introducing the simple solution for feeding your indoor plant babies: Tui Indoor Plant Fertiliser Pods.
Each pod is a blend of perfectly balanced nutrients that are released as your plants need them, for up to 6 months.
Simply push them into the soil for fuss-free, out of sight feeding.
No matter what your preferred indoor plant may be, creating your very own indoor oasis is the perfect finishing touch to your home. If you're after lush green growth, and optimum flowering, look no further!
Specially developed for indoor plants, Tui Indoor Plant Fertiliser Pods are easy to use, contain potassium and trace elements for lush, healthy plants, and feeds for up to six months.
To use:
Simply push the required number of pods into the soil of your indoor plant to a depth of 3cm. Space evenly around the pot, avoiding the plant stem. Apply at the rates below:

Up to 15cm pot: 1 pod
20cm-30cm pot: 2 pods
Over 30cm pot: 4 pods

Cover with soil, and water as required.
Add new pods every six months.
N-P-K 14-3.5-9.1 + trace elements
Bag made from 40% recycled plastics
Discover tips for indoor plants success >
Add new pods every 6 months to keep your plant babies happy and healthy.