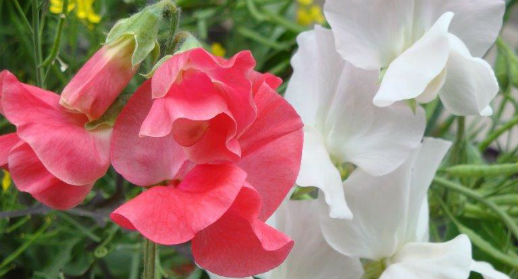 When the first sweet pea flowers appear each season, it's such a welcome sight. Whether your preference be the brightly coloured shades or the sweetly fragrant varieties, all are just beautiful when picked for the vase.
Sweet peas are hardy, climbing annuals, they flower their hearts out from late spring through summer and autumn and then call it quits before winter. They readily self seed and new seedlings may appear the following season.
Planting ideas
Sweet peas do a sterling job in the vegetable garden too, as they are a welcome food source for bees and other pollinators. A neat idea is to plant them with climbing beans or in the corn bed, so they can twine their way up. It saves space and looks attractive, plus you also get an edible crop alongside your sweet peas.
Where to sow and how to grow
The first rule is never be stingy, always plant plenty as once the flowers come you will want plenty to pick.
Sweet peas require full sun, away from blustery winds.
Sow seeds direct in spring or autumn or into trays of Tui Seed Raising Mix.
Prepare soil by blending in Tui Compost, Tui Super Sheep Pellets and fertilisers high in potassium such as, Tui Tomato Food or Tui Strawberry Food.
Carefully transplant seedlings, being mindful that they don't like too much root disturbance.
After planting, drench with Seasol plant tonic to give young plants a boost, sweet peas just love this seaweed based tonic.
Once seedlings are 10cm tall, pinch out the tips to encourage more side shoots.
Support
They need something to climb up, trellis, wigwams, tee pees and stakes all work.
In Pots and Containers
Sweet peas are fabulous container plants; choose a large pot, they need plenty of root room. Fill with Tui Pot Power or Tui Container Mix then plant.
Slugs and Snails
Both love the soft new leaves of sweet peas; lay Quash Slug and Snail Stoppa on a regular basis to prevent crop damage.
Ones to look out for
Perfumed:
High Scent – cream edged with violet (image 3)
Spencer's Scentsation – mixed, very large flowers
Wiltshire Ripple – red and white Erewhon – (image 5)
Old Spice mix – multi
Brightly coloured:
Sing the Blues - blue (image 4)
Solar flare – scarlet red
Kaleidoscope – mix of bright shades
Enchanted – rosy pink
Bijou Dwarf – multi reds and blues (image 6)
By Rachel Vogan