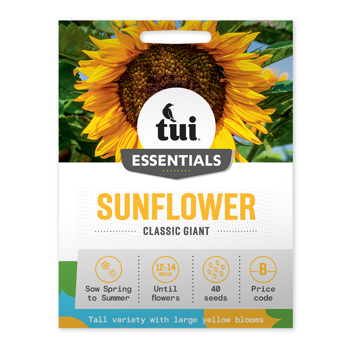 Tui Sunflower Seed - Classic Giant
Sunflowers are the flower of summer, bringing much joy and sunshine to the garden. A favourite with the bees and kids, they're easy to grow for a stunning show.
Tui Sunflower Seed - Classic Giant is a fast growing tall variety that can reach up to 3m in height. Producing large yellow blooms and quality edible seeds.
Sow in seed raising trays, or sow direct in the garden when the weather warms in spring. 
Contains 40 seeds.

Benefits
Fast growing variety.
Produces large yellow blooms.
Grows up to 3m tall.
Seeds produced are edible. 
Directions for use
Sowing in trays
Prepare seed trays with Tui Seed Raising Mix.
Sow seeds 10mm deep.
Keep well watered.
Sowing direct
Before planting work Tui Seed Raising Mix into soil.
Sow seeds 10mm deep and 40cm apart. Provide support.
Keep well watered.
Follow our Growing from Seed Guide
Seedlings can be transplanted once they have two sets of true leaves.
Note: This seed contains a fungicide coating as required by the Ministry of Agriculture. Do not eat seeds or feed to birds or animals.
Tui Sunflower Seed - Classic Giant reviews
Be the first to write a review