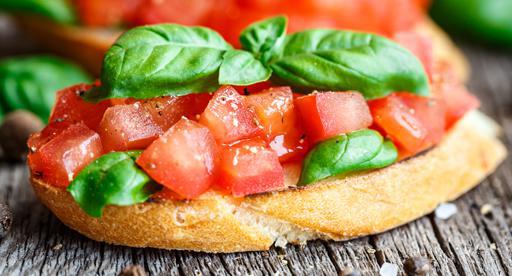 This recipe from the children at Te Huruhi Primary School is great timing for all your tomato harvests this autumn! It's so easy and tasty - a great recipe for the kids to have a go making at home.
Ingredients
1 loaf ciabatta bread or foccacia bread
4 cloves garlic
1 -2 handful cherry tomatoes or any other tomato from the garden
1 handful basil leaves
Olive oil
Salt and pepper to taste
To make bruschetta, thickly slice the bread and drizzle with olive oil.
Barbecue, chargrill or grill bread to toast.
Rub toasted bread with the cut side of the garlic to flavour.
Top bruschetta with some quartered cherry tomatoes sprinkled with salt and pepper.
Add basil leaves to garnish.
Cut Bruschettas in half and arrange on large serving plates.
Garnish with fresh herbs and edible flowers if available.
Tip
Italian for toast, bruschetta are slices of crusty, toasted or chargrilled bread, drizzled with olive oil and rubbed with garlic. Bruschetta make a tasty base for many different toppings, such as tomatoes, mozzarella, parmesan or Italian-style dips like pesto.
Recipe supplied by Te Huruhi Primary School.