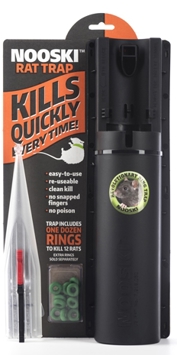 Nooski Rat Trap
The Nooski springless rat trap will effectively kill rats invading your home.
A revolutionary new rodent trap, the Nooski Trap System offers a safer and cleaner solution to controlling rodents. It utilises an expandable rubber latex ring as the killing device. Attracted by bait the rat enters the trap pushing past the release trigger, which in turn releases a powerful ring onto the rat's neck/chest area causing the rat to spring free of the trap and die quickly and humanely.

Designed to be set on the ground and vertically on a wall, tree or fence. Vertical setting has the added benefit of being 100% pet safe.
The dual leverage release mechanism makes the Nooski Rat Trap more sensitive than any other device, whilst having great resistance to misfires from vibration and movement.

The safety tunnel is a dual purpose design acting as the bait holder as well as safety tunnel. Featuring tamper proof clips to prevent curious pets and children from accessing the trigger housing.

Length: 287mm, Width: 91mm, Height: 58mm, Weight: 105grams.
Available at Mitre 10 and Bunnings stores nationwide, and online here
Benefits
Built from tough ABS plastic.
No poison.
Easy to use.
Safer around children and pets.
Kills every time guaranteed.
Kills quickly and humanely.
Designed and made in New Zealand.


Directions for use
Release the clips on the safety tunnel.
Separate the clear tube from the black safety tunnel.
Place bait in the bait tray, peanut butter , chocolate, nuts and seeds are recommended. Do not set with pet food, fish or meat.
Roll the ring forward to the front groove of the clear housing. To prevent misfiring, push your thumb forward on the black trigger and place your finger over the front edge until the ring is in place. If having difficulty rolling the ring on, hold against a wall and push the ring forward with your fingers.
Place the housing back into the safety tunnel ensuring the bait tray lines up with the hole in the bottom of the clear trigger housing.
Securely close the safety tunnel, ensure the clips lock into position.
For best trapping results place your trap against a wall or solid object, rats are wary of traps in open spaces. Ensure to set your trap out of reach of pets.
Nooski Rat Trap reviews
Be the first to write a review