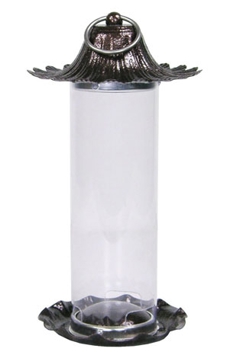 Tui Antique Feeder - Small
The stylish small feeder makes a great gift to someone new at feeding birds. The versatile and economical size is ideal for patios or decks when trying to attract only a few birds.
The easy twist-off top makes filling and cleaning simple. The attractive hammered copper polyester powder-coat finish is durable and will look great in any yard.
Approximate capacity: 400g
Benefits
High quality construction
UV Stabilised
Weather resistant finish
Easy to clean
Simple to fill design
Directions for use
Birds feed most actively in the early morning, replenishing their energy after the night.
Keep the feeders filled with wild bird mix.
Regularly clean and dry your bird feeding station or feeder.
Feeding food from dirty, unclean feeders may contribute to the spread of disease amongst the wild bird population.
Always keep food dry and not allow it to go mouldy as rotten food has the potential to be harmful to wild birds.
Ensure your hanging feeder or platform station is in a position that is both visible to you and in a quiet, naturally sheltered location away from windows that birds may fly into.
Tui Antique Feeder - Small reviews
Since hanging this feeder in our garden we have had a huge abundance of birds. Having to refill every day!!

Glenda